10 Cold Vegetarian Lunches – Mediterranean Inspired Recipes
There are countless options available when it comes to cold vegetarian lunches. Cold vegetarian lunches can be just as filling and flavorful as their warm counterparts, whether you're searching for a light meal to enjoy at work, school, or on a picnic. The tantalizing cold vegetarian lunch ideas we'll look at in this post are not only delicious, but they're also loaded with vital nutrients. So, take your lunchbox and get ready to improve your experience at lunchtime! These are the top 10 cold vegetarian lunches:
1. Artichoke with olive oil
Artichoke, the most consumed vegetable by the lovers of the winter months, is consumed by some to benefit from the nutrients it contains and some because they really love it. Artichoke, which contains plenty of vitamin A, cleanses the liver and strengthens the immune system. Artichoke, which also protects the heart and vascular health, must be cooked in everyone's kitchen. Don't forget to try my artichoke recipe with olive oil. Bon appetit in advance to those who will try.
Are artichokes healthy?
Yes, artichokes are full of nutrients and have a number of health advantages. They are high in fiber, vitamins, minerals, and antioxidants while being low in calories and fat. Here are some explanations as to why eating artichokes can be beneficial for your diet:
Antioxidants are abundant in artichokes, which contain substances including quercetin, silymarin, and cynarin. These anti-oxidants aid in preventing oxidative stress and lower the chance of developing chronic illnesses.
Artichokes are an excellent source of dietary fiber, which supports a healthy digestive system and maintains bowel regularity. A lower risk of heart disease, type 2 diabetes, and several cancers is also linked to adequate fiber intake.
Ingredients for Olive Oil Artichoke Recipe
6 Artichokes
Juice of half a lemon (for rubbing the artichokes)
1 Carrot
1 Potato
1 Cup peas (boiled or canned)
1 Onion
1 Tea glass of olive oil
1 Lemon
1 Teaspoon sugar
1.5 Teaspoon salt
1 Glass of water
How to Make Artichoke Recipe with Olive Oil?
Cut the carrots and potatoes into small cubes and put them in a pot, add enough water to cover them and let them boil for about 10 minutes.
After the vegetables are cooked, drain them and set them aside.
In a separate, cook the peas until they are soft. You can also use canned peas if you wish. Let's drain the water of our boiled peas and keep them aside.
Chop the onions and sautee them with olive oil in a pan.
Add potatoes and carrots. Add the boiled peas, stir for 1-2 minutes and remove from the stove.
Put the artichokes in a suitable bowl, rub them with the juice of half a lemon and place them in the pot.
Add olive oil, lemon juice, sugar, salt, sugar, salt and water and cover the lid of the pot.
Cook the artichokes over medium heat until it the water comtoaboil. When the water boils, lower the heat 20-25 minutes or until the artichokes soften.
Remove the cooked artichokes from the stove and let them cool down. Place them on a serving plate and place the prepared vegetables in the middle of them. Spread the remaining garnish over the artichokes. You can also decorate it with dill.
Enjoy this delicious artchoke recipe wit your loved ones.

When it comes to comfort food, few dishes can rival the satisfying layers of lasagna. While traditional lasagna typically features meat and cheese, vegetarian lasagna offers a delicious alternative that is equally hearty and flavorful. Packed with wholesome ingredients and bursting with savory goodness, this vegetarian lasagna recipe is a true winner for vegetarians and non-vegetarians alike. Get ready to savor each bite of this culinary masterpiece.
Here is the full recipe of this mouth-watering vegetarian lasagna recipe.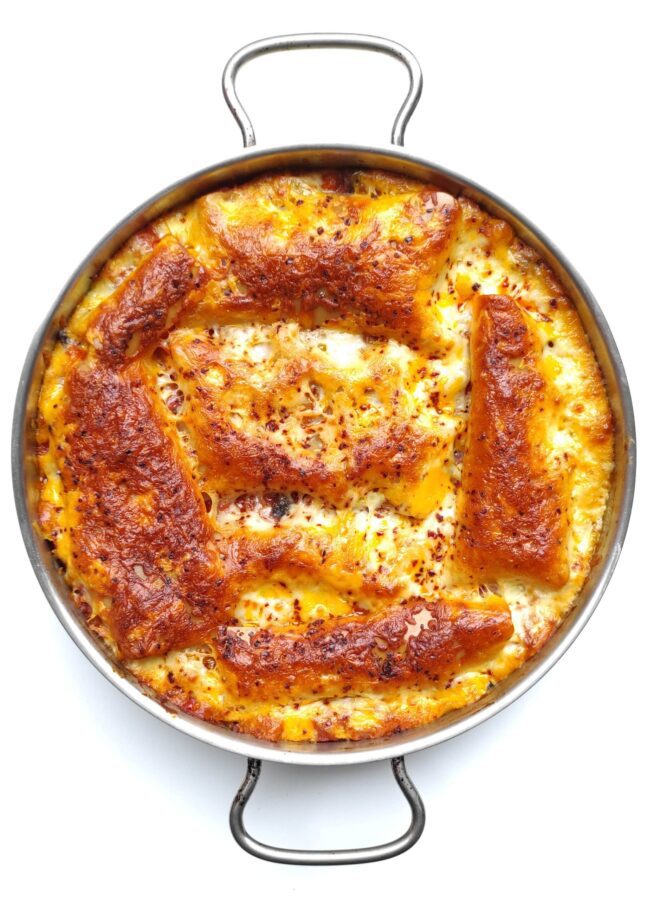 Ingredients (5-6  servings):
250 gr Lasagna Sheets
2 medium carrots
2 small eggplants
3-4 cloves garlic, pressed or minced
600 gr (21 ounces) canned organic tomatoes, chopped
100 gr grated mozzarella cheese
50 gr grated cheddar cheese for the top
1 zucchini
1 red bell pepper
1 medium onion
Béchamel sauce
1 teaspoon Salt
1/2 teaspoon black pepper
1/2 teaspoon oregano
1/2 teaspoon chili flakes
5-6 tablespoon olive oil
Instructions
To prepare the veggies: Cut the zucchini, bell pepper, onion, and carrots into very small pieces.
Eggplants can be bitter. Before we cut the eggplants into small pieces, a saltwater bath before cooking may improve the flavor.
Cut the eggplants into 1/2-inch-thick slices and place them into cold water. Add 1 tablespoon salt and set aside for 15 minutes.
After 15 minutes, cut the eggplants into small pieces, as well.
Heat olive oil in a large pot over medium heat.
Add the onion and sauté for 4-5 minutes, until it softens.
Add the eggplants, salt, and sauté for another 4-5 minutes.
Add the bell pepper, zucchini, carrots, black pepper, chili flakes, and oregano, and give it a good mix and sauté for another 5 minutes.
Add chopped tomatoes and cook for 25-30 minutes over low heat.
Start to prepare our Béchamel sauce (white sauce)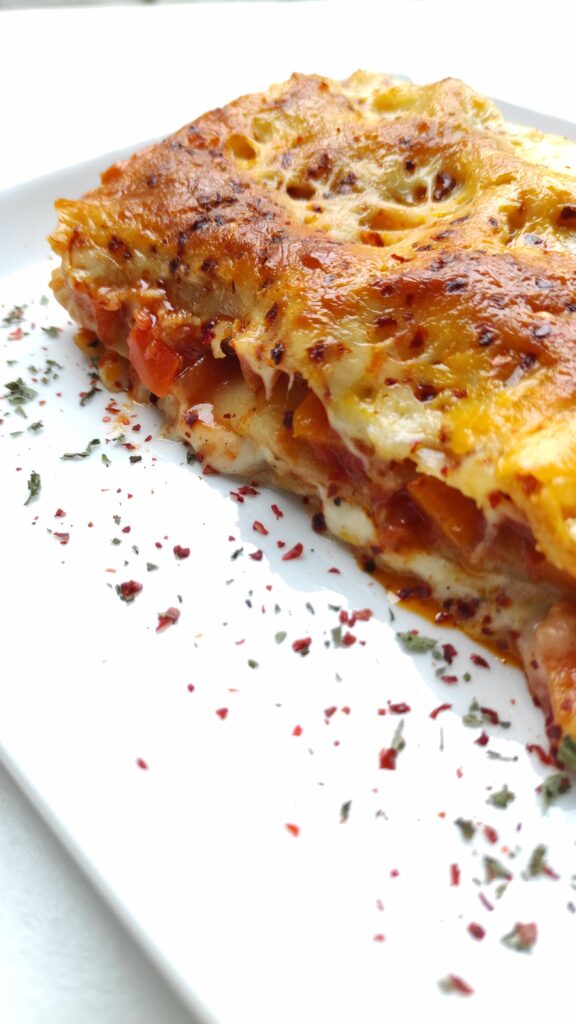 3. Mediterranean Chickpea Salad
The next member of our list for cold vegetarian lunches is spicy chickpea wrap. This salad is a terrific choice when it comes to salads because it unites fresh vegetables with chickpeas, making it a more filling dish that's high in vitamins, minerals, protein, and fiber. A mild dressing made with lemon juice and oil complements the ingredients without being too thick or unhealthy.
Here is the full recipe!
Ingredients
Chickpeas: Cook them yourself or use canned chickpeas
Bell Pepper: You can use red bell pepper or red pointed pepper
Red Onion: Do not use yellow onion
Parsley: Do not use dried parsley
Lemon Juice: Only fresh lemon juice
Olive Oil: Extra virgin olive oil.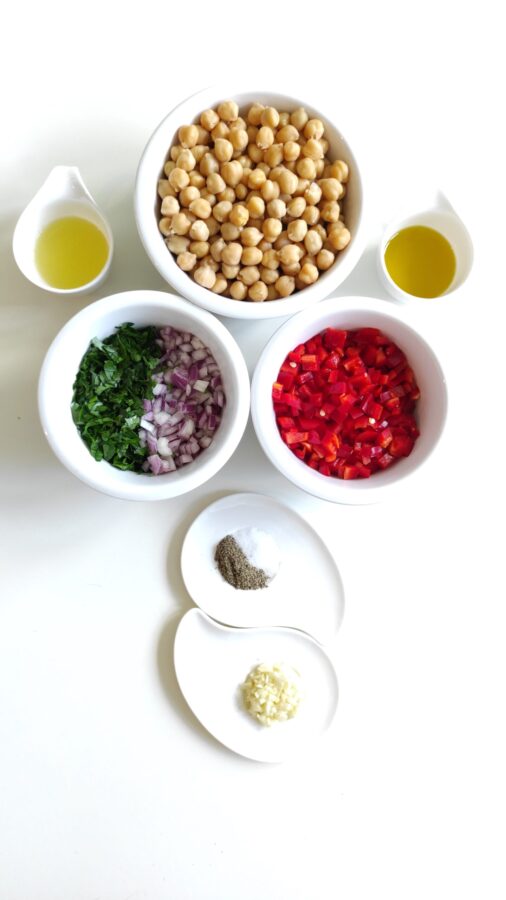 Instructions:
Chop the onion, bell pepper, parsley, and garlic.
In a medium salad bowl, combine all of the ingredients. Mix until combined.
Taste and if necessary, add additional lemon juice, salt, or pepper.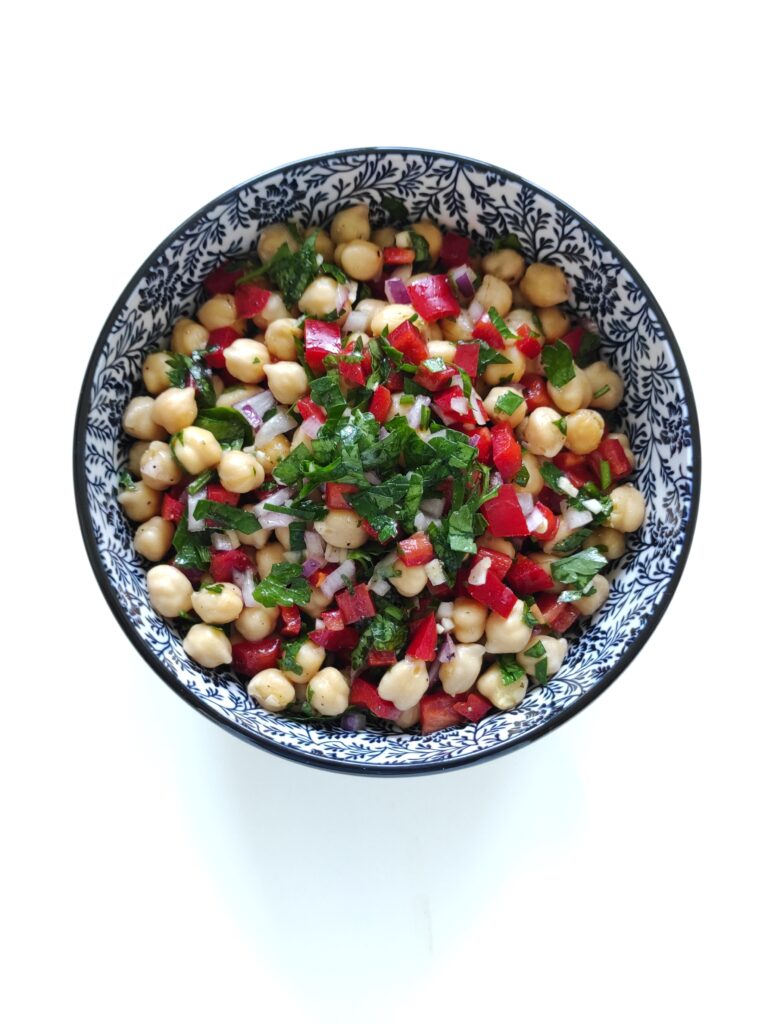 4. Potato salad with egg:
To meet your daily nutritional needs, we have chosen for you a very tasty salad. This potato salad with egg is a super-dish. It is delicious, easy-to-make and healthy.
Ingredients (2 servings)
6-7 small boiled potatos
4-5 organic boild eggs
2-3 finely chopped spring onions
20 gr finely chopped parsley
1/2 teaspoon chili flakes/powder
1 teaspoon salt
1 teaspoon black pepper
3-4 tablespoon olive oil or sunflower oil
Juice of a lemon
In this dish you will find everything your body needs. Vitamins, nutrients, micronutrients, proteins and healthy fats.
5. Russian Salad (Olivier Salad) Recipe
Many food lovers hold a special place in their hearts for Russian Salad, often referred to as Olivier Salad, when it comes to legendary culinary creations. This age-old recipe, which has its roots in Russia from the late 19th century, has crossed national boundaries and enchanted palates everywhere. Russian Salad has developed into a cherished classic that crosses cultural and generational boundaries thanks to its perfect combination of ingredients and bright tastes.
Russian salad is mostly a combination of diced veggies, boiled eggs, and cooked potatoes that are all combined with a creamy dressing. But this dish's charm comes in its adaptability, since each cook frequently gives it their own unique spin. Although there are few variations, the essential ingredients are usually potatoes, carrots, peas, pickles, and boiled eggs.
Ingredients For American Salad Recipe
1 large carrot
1 medium-sized potato
1 cup peas
2 pcs gherkin pickled cucumber
2 tablespoons of mayonnaise
3 tablespoons strained yogurt
1 teaspoon salt
Intructions:
Remove the skins and cut the vegetables into cubes. Boil the potatoes, carrots and peas in boiling hot water in separate pots for about 10 minutes until they are tender. Drain the boiling water and let the vegetables cool down.
Add the potatoes and carrots into a deep mixing bowl.
Then add the peas.
In a separate bowl, mix the mayonnaise, strained yogurt and salt for the sauce.
Cut the pickled gherkins into small cubes after removing the ends.
Combine all the chopped ingredients with the yogurt and mayonnaise sauce and blend well.
Bon appetit!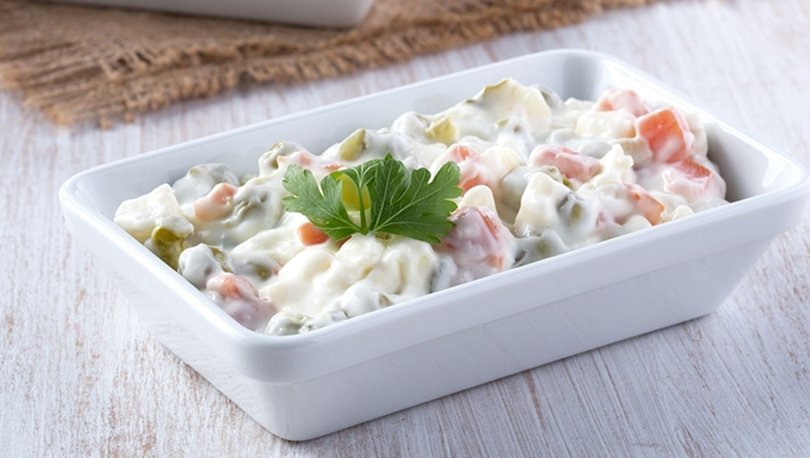 The spicy chickpea wrap is a delicious and satisfying option for those craving a burst of bold flavors in their meal. With its protein-packed chickpeas, fiery spices, and fresh vegetables, this wrap offers a harmonious balance of textures and tastes that will delight your palate. it is one of the most importtant mebers of our list for cold vegetarian lunches.
Ingredients (for 5 wraps)
800 gr cooked, canned chickpeas.
1/2 medium red onion
1 paprika. You can use bell paprika (yellow,red or green)
1 tomato
1/2 teaspoon salt
1/2 teaspoon cumin
1/2 teaspoon hot chili flakes
1/2 red pepper powder
Instructions:
Cut the tomatoes, bell pepper and onion in half and slice them.
Chop the parsley and mix it with sliced bell pepper, onion and add salt.
Heat olive oil / sunflower oil in a pan over medium high heat.
Add all spices, tomato paste and chickpeas and sauté for 3-4 minutes.
Place the ingredients in the tortilla. If desired, add a dressing of your choice.
7. Shell bean with olive oil
Ingredient:
300 gr kidney beans (sorted)
1 carrot
2 medium-sized potatoes
1 onion
3 garlic cloves
2 pcs tomato
1 tbsp tomato paste
1/2 cup olive oil
2 cups of hot water
1 teaspoon salt
1 piece of sugar
1/2 pinch parsley (optional)
Instructions:
Wash and sort the kidney beans. Then wash again with plenty of water.
Peel the outer surface of the carrot and slice it into rings. Peel the potato and cut it into cubes.
Peel and grate the tomatoes.
After chopping the onion, put the olive oil in a pot and fry it with the finely chopped garlic until it turns pink.
Then add the carrot and potato. Roast for about 4 minutes more.
Then add the kidney beans and mix, add the peeled and grated tomatoes and tomato paste and mix well.
Finally, add the water, salt and sugar and cook over low heat for 25 minutes with the lid closed.
Check and if the kidney beans are soft, turn off the heat and do not open the lid until it reaches room temperature.
Then put it on a serving plate, drizzle extra virgin olive oil on top, garnish with parsley and serve. Enjoy your meal.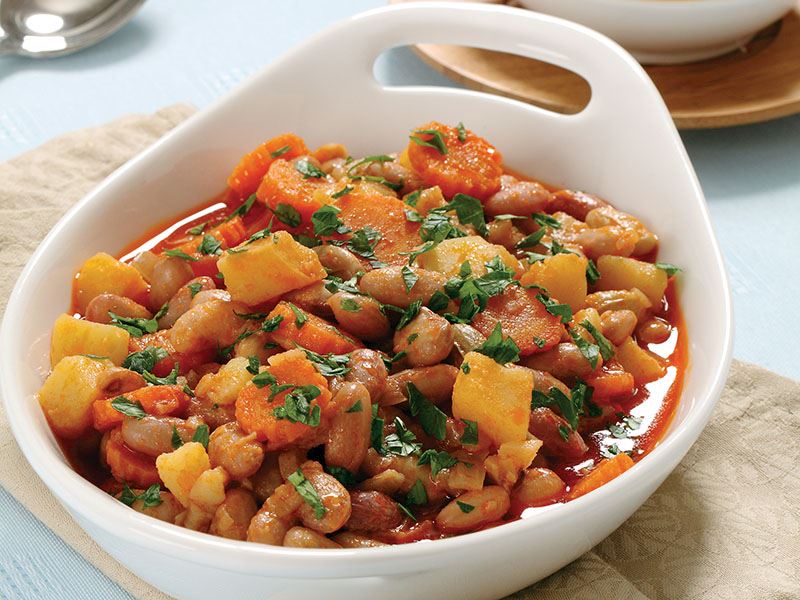 8. Mediterranean Pasta Salad
Let us S´step into the enchanting world of the Mediterranean kitchen, where vibrant colors, robust flavors, and wholesome ingredients come together to create a culinary experience like no other. This celebrated cuisine is a delightful fusion of cultures from countries like Greece, Italy, Spain, and Turkey, offering a diverse array of dishes that are not only delicious but also nourishing for the body and soul.
Our next member of our list for cold cold vegatrian lunches is mediterranean pasta salad.
Ingredients:
Half a pack of pasta (250 gr)
1 cucumber
6 cherry tomatoes
1/2 redonion
1/2 lemon
1/2 teaspoon of thyme
100 grams of cottage cheese
20 pitted black olives
20 pitted green olives
50 ml olive oil
Salt and pepper
Instructions:
Peel and cut the cucumbers into small pieces. Halve the cherry tomatoes and cut the red onions finely.
For the dressing, take a small bowl, add olive oil, juice of half a lemon, salt and pepper. Mix well so that the flavors blend well.
Take a large salad bowl and add all the ingredients. Add the pasta that you boiled in salted water, tomatoes, onion, cucumber, cucumber, green and black olives.
Drizzle the dressing you prepared last.
After mixing well, add the cubes of cheese. Sprinkle the fresh oregano leaves over the salad, give it a final stir and serve. Enjoy your meal.
9. Jalapeño Hummus Recipe
We have already shared with you an easy and delicious classic hummus recipe. Today, we will pimp our hummus and make it a bit spicy. If you like spicy food, you will love this jalapeño hummus recipe.
Ingredients:
400 gr chickpeas (canned)
100 gr tahini
2 lemons (juiced)
2 garlic cloves
1⁄2 cup fresh parsley
1 teaspoon salt
1⁄2 teaspoon cumin
1 teaspoon chili flakes (hot)
5 tablespoons olive oil
50 ml water
25 gr jalapeños
Instructions:
In a blender or food processor, mix all the ingredients for 1-2 minutes, or until creamy. If your hummus is too thick, add 50 ml water and mix again.
10. Fig dessert recipe
Our last recipe is a low-carb dessert recipe. This is a 2-ingredients-recipe. It is a healthy, simple and low-carb dessert recipe
Here is the full fig dessert recipe incl. images and video.
Ingredients:
1 liter Organic milk
8-10 pieces Dried figs
20 g Pistachhio or pomegranate (Optional, for the topping)
Instructions:
Place 8-10 dried figs into a large pan

Add hot water and wait 15-20 minutes or until they soften

Remove the steems and cut the figs in to small pieces

Place them into a large bowl, add 0,5 liter milk and puree for 30 seconds

Add the rest of the milk (0,5 liter) and mixx well

Transfer the mixture into 4 small (250 ml) bowls and set a side for 1-2 hours

Put the bowls in the fridge and cool for 1-2 hours

Bon Apetit:)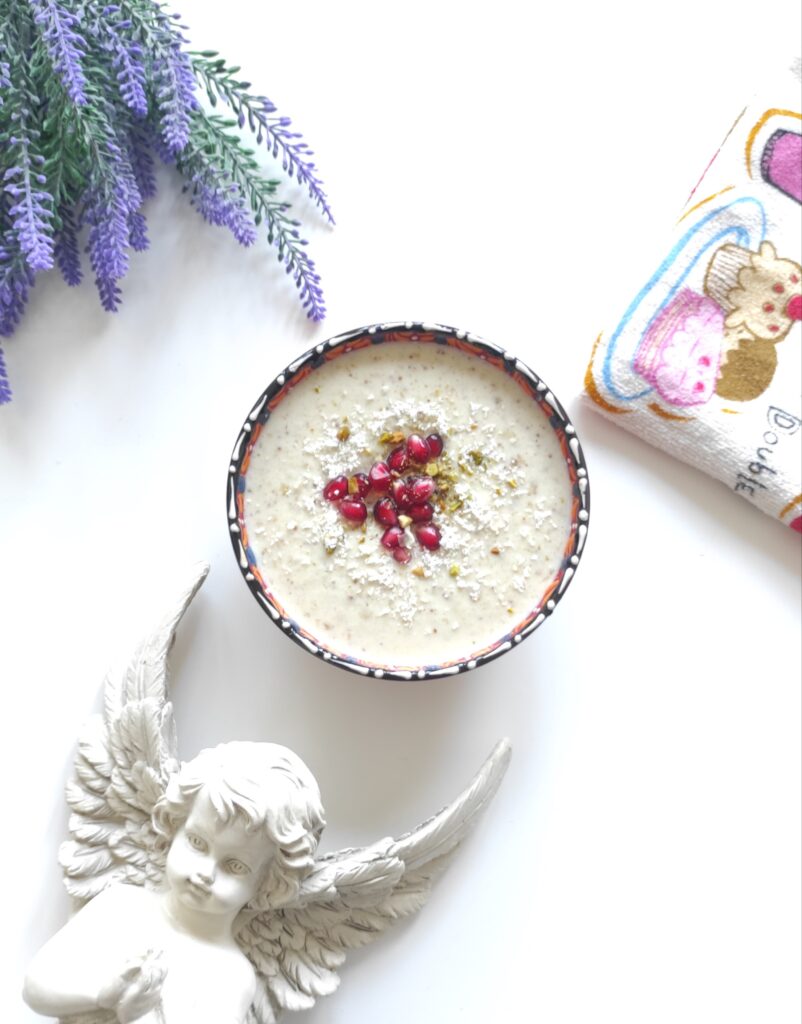 Mediterranean cuisine embraces communal dining, where meals are shared with family and friends. The concept of meze, a selection of small plates or appetizers, allows diners to savor an assortment of flavors and textures in one sitting. Hummus, tzatziki, baba ganoush, and dolmades are just a few examples of the delectable meze offerings that invite you to embark on a culinary journey.
In conclusion, the Mediterranean kitchen is a treasure trove of vibrant flavors, fresh ingredients, and healthful traditions. From the simplicity of a Greek salad to the complexity of a Moroccan tagine, the region's cuisine captures the essence of Mediterranean life and nourishes both the body and the soul. So, let your taste buds embark on a gastronomic adventure as you savor the delights of the Mediterranean kitchen.
This list for cold vegetarian lunches will be updated!