Easy Pickled Vegetables Recipe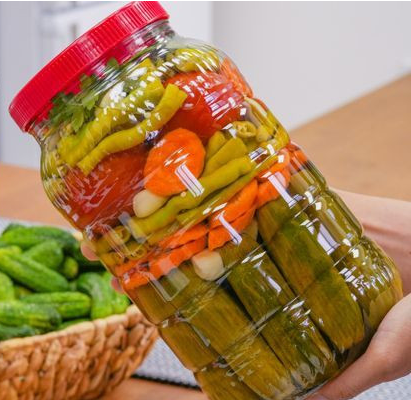 Pickled vegetables are one of the most important foods for human health. Therefore, we would like to share a easy pickled vegetables recipe.
Are pickled vegetables healthy?
We had published detailed information about the health benefits of pickled vegetables and how to prepare quick pickled vegetables at home?
Fermented pickled vegetables, such as sauerkraut and kimchi, can be a good source of probiotics, which are beneficial bacteria that can support digestive health and boost the immune system. These pickled vegetables are also low in calories and high in fiber, vitamins, and minerals.
Today we would like to share with you an easy pickled vegtables recipe.
How long does home-made pickled vegetables last?
The shelf life of homemade pickled vegetables can vary depending on the type of vegetable, the acidity of the pickling liquid, and the storage conditions. In general, properly stored homemade pickled vegetables can last for 4-5 months.
To ensure the longest shelf life for your homemade pickled vegetables, it's important to follow proper pickling techniques and store the vegetables in a cool, dark place such as a pantry or refrigerator. The pickling liquid should be acidic enough to prevent bacterial growth, which can spoil the vegetables.
To extend the shelf life of your homemade pickled vegetables, it's also important to use clean and sterilized jars and lids when packing the vegetables. You can sterilize the jars and lids by boiling them for a few minutes or running them through a hot dishwasher cycle.
Let`s start to prepare our easy pickled vegetables.
Easy Pickled Vegetables Recipe
Ingredients  
2

kg

Gherkin cucumber

250

g

Long green pepper

4

Tomatoes

2

Carrots

1

cup

Rock salt

3

cups

Vinegar

10

cups

Water

2

Cloves garlic

1

Teaspoon

Lemon Salt

(or 2 lemons)
Instructions 
Firstly, let's prepare the jars and lids. Every time we prepare pickled vegetables, we need to use a new and high quality lid. Clean the jars and lids with hot hot water before you use them

Cut the ends of the gherkins, which we have washed thoroughly, and place them tightly in the jar vertically.

Squeeze the peeled garlic cloves between them and place another row of gherkins.

After adding garlic to the remaining gaps, fill the jar with gherkins. I filled a 3 litre jar with these measurements.

Cut the ends of the cucumbers and place them vertically in the pet jar.

After adding plenty of garlic to the remaining gaps, place the chopped carrots.

Place the remaining carrots and peppers into the empty spaces of the jar. Cover with a pinch of parsley.

You need a large bowlfor the pickle juice.

Put the vinegar in a deep mixing bowl.

Add water, rock salt, lemon or lemon salt and mix until the salt dissolves.

Fill the jars with pickle juice up to the brim.

Close the jars tightly with the lids

Keepthe jar in a dark place and your pickles will be ready in 2-3 weeks. Bon appetite.
Check out my blog or my  vegan and vegetarian recipes.