Are you one of those people who think a vegetarian or vegan diet is too expensive? Unfortunately, you are not alone. But don't worry, I'm going to prove you wrong. I'll show you how to eat vegetarian on a budget and share with you recipes for incredibly delicious and easy-to-prepare meals. It's not only important for your pocket, but also for your health.
Is a vegetarian diet cheaper and healthier?
We have informed you about this topic in detail in our article "Will a vegetarian diet lower cholesterol? | Is a vegetarian diet healthy?"  In this article, we will give you information about the prices and share some incredibly delicious recipes with you.
Especially after the Covid-19 pandemic, you've probably seen how much the prices of basic food products have increased. This is of course unfortunate for a lot of people, but I want to look at the positive side of things. These high prices are forcing people who are not in the best economic situation to prepare meals at home, away from the unhealthy food that is sold outside and contains many additives. This leads to people eating healthier.
This includes, of course, unhealthy meat products. Many professionals point out that there is a significant difference in quality between the meat sold today and the meat sold 20-30 years ago, and that the cheap meat sold in the markets today is harmful to health and can lead to serious illnesses. Do you want to know if meat is healthy? Take a look at our article about this topic and see what German Health Minister Karl Lauterbach thinks about it.
How to eat vegetarian on a budget? Is it cheaper to eat vegetarian or vegan?
First, let's look at where the misconception that "vegan and vegetarian diets are expensive" comes from.
When I think back 10 years ago, vegan and vegetarian food products were fewer and harder to find than they are now. Of course, veganism and vegetarianism are not a 10-year-old movement, but to be honest it was not as widespread as it is now. Social media has its benefits as well as its harms. That's why, about 10 years ago, companies that saw the rise of veganism and vegetarianism as a fiat, kept prices high because the products were new, and as always, prices were high because of supply and demand.
Now, if you pay serious attention to the prices, you can see that the prices of vegan and vegetarian products are more affordable. Vegan and vegetarian food is definitely cheaper
How to eat vegetarian and lose weight?
If you are a vegetarian, eggs are one of the most beneficial foods you can eat. Eggs will not only provide you with the protein, vitamins, and minerals you need, but they will also help you lose weight.
According to Mutia Canan Karatay, a physician, Professor of Heart and Internal Medicine, who has published at least 9 books, you can lose weight by eating 10 eggs a day and not doing any sports or dieting.
Canan Karatay's 3 suggestions…
Prof. Dr. Canan Karatay said:  "Losing weight is not only possible with food, but it is also possible to lose weight while sleeping".  She continues: "The hormone called leptin hormone, which is activated 4-5 hours after meals, burns fats. This hormone converts stored fats into blood sugar and provides the necessary energy."
Fatty pastries such as bagels, bread, and pastries should be avoided, and a protein-based diet should be followed. If you want to have snacks, you can consume unsweetened coffee or herbal teas at this time. Sugar and salt are banned.
"Leptin also converts what you eat into energy. This hormone is most secreted between 2 and 4 o'clock in the morning." In other words, if nothing is eaten after 8 pm, the leptin hormone appears at midnight and burns the fat in the hips and belly.
Let us take a look at our delicious and easy-to-make vegetarian recipes:
1. Baked Oat Recipe UK | TikTok Viral Recipe 2022
Here is the recipe.
The baked oat recipe is very easy to prepare. All you need is some simple ingredients, a hand blender, and a bread pan.
Costs: $4 for 6 servings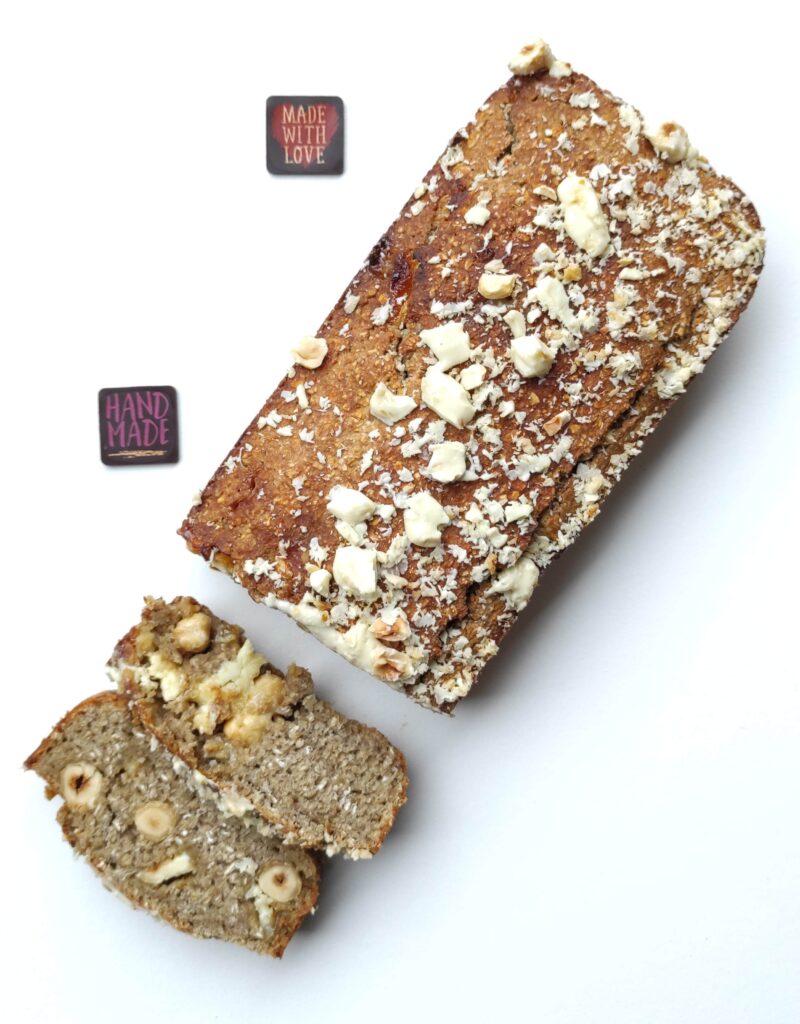 Ingredients for baked oat recipe
400 g oatmeal: If you bake, always try to use organic products.
200 g white chocolate: Use your favorite white chocolate
3 eggs: The eggs must be organic as well.
2 bananas:  The bananas MUST be ripe and sweet.
4 tablespoons of sugar: You can use maple syrup, too.
1 teaspoon baking powder and 1 teaspoon salt.
Bread pan (9×5-inch): Grease the pan with butter or sunflower oil
2. Best Butternut Squash Soup Recipe
Here is the recipe with detailed pics and steps.
The ingredients you need for this incredibly delicious squash soup are butternut squash, herbs Crème fraîche (if you are vegan, you can use coconut milk), carrot, potato, yellow onion, and vegetable broth.
For 4 servings of soup, the most you have to pay is $5.
3. Best Vegetarian Lasagna Recipe
Here is the recipe!
For 6 servings of this delicious vegetarian lasagna recipe, the most you have to pay is $10.
6 servings of lasagna are enough for dinner for a family of 4.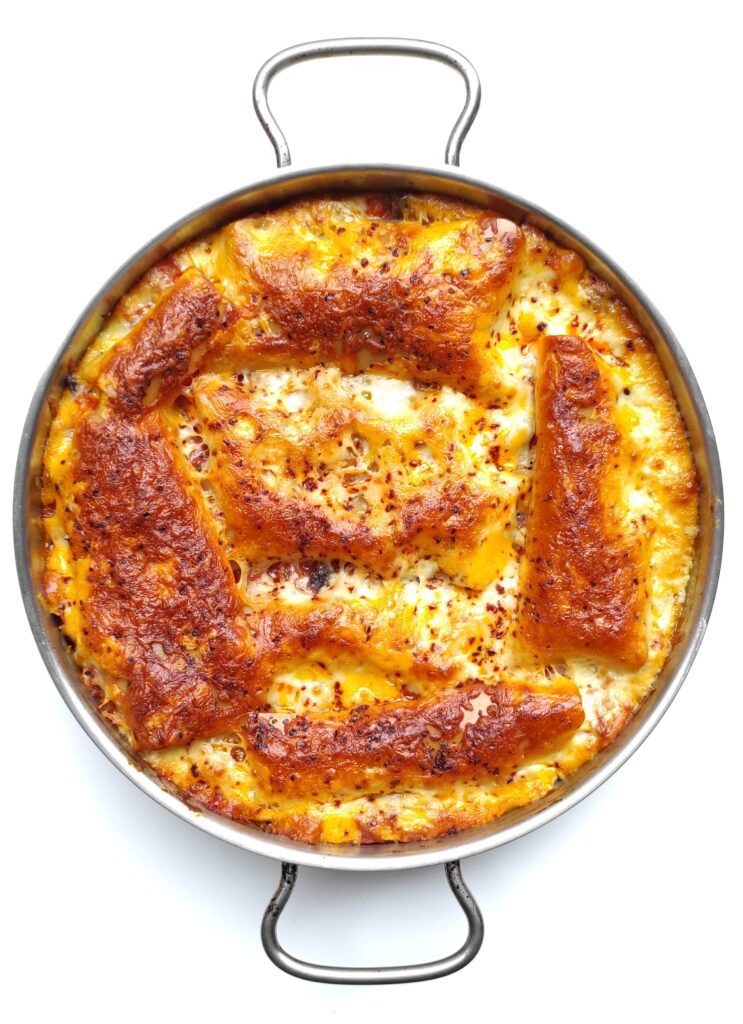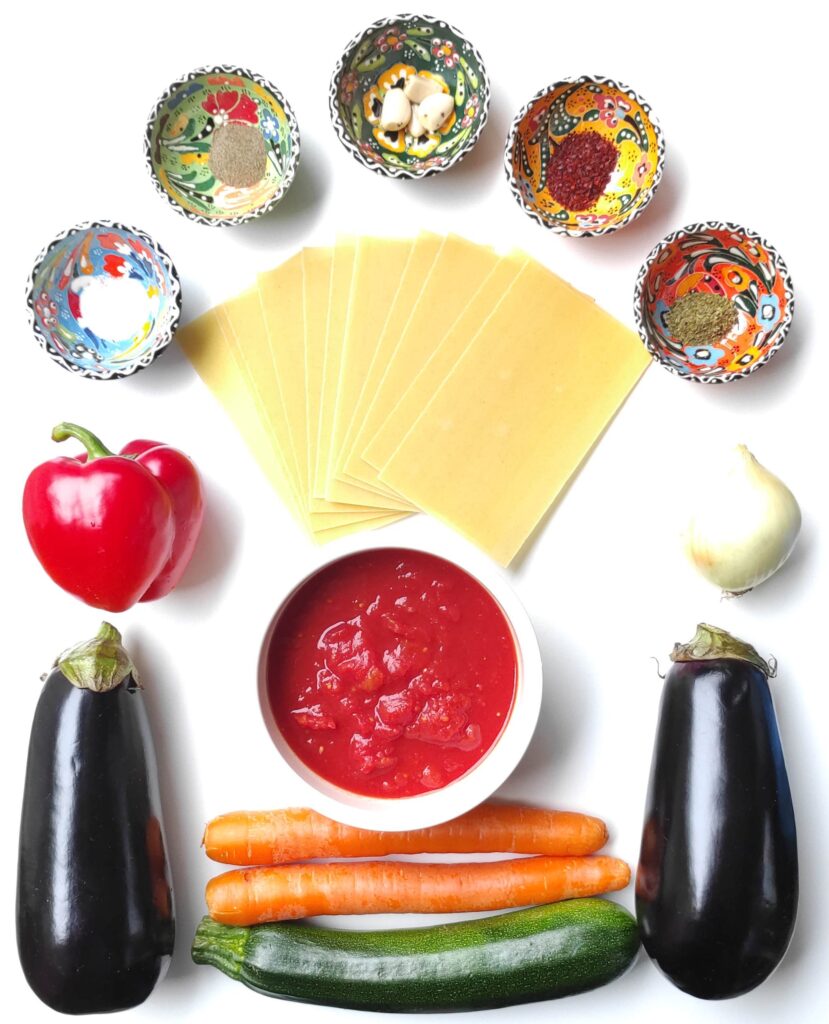 4. Pumpkin Ginger Soup
Here is the recipe.
This
is
the
perfect
soup
for
the
cold
winter
days. Spicy, hot, and refreshing.
Costs: $4 for 4 servings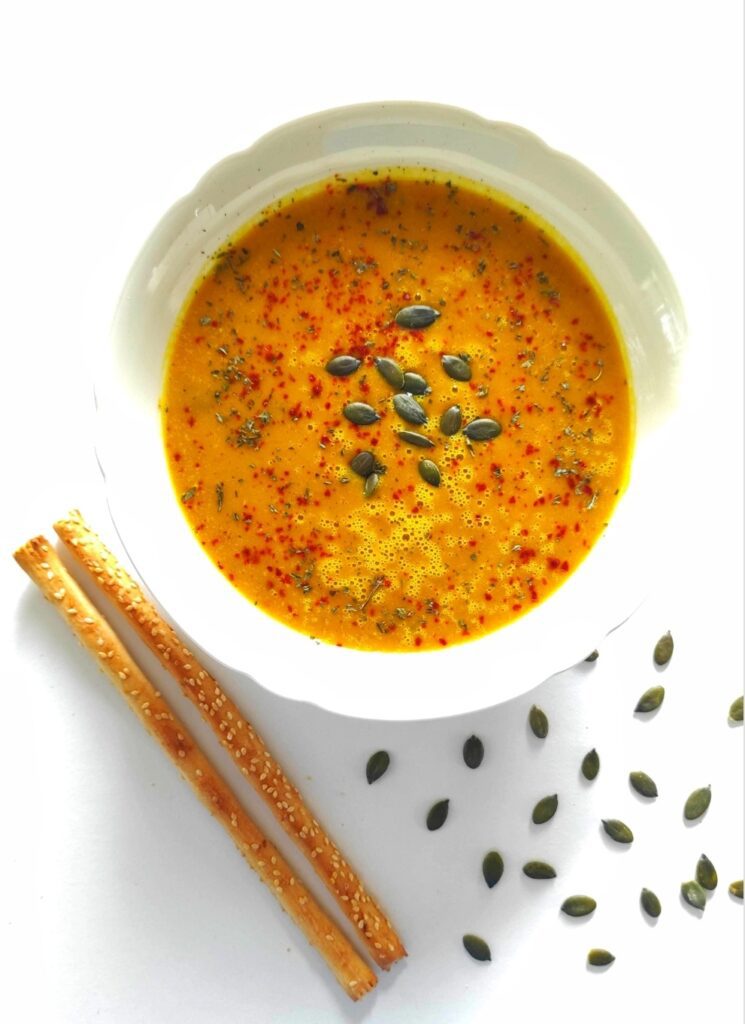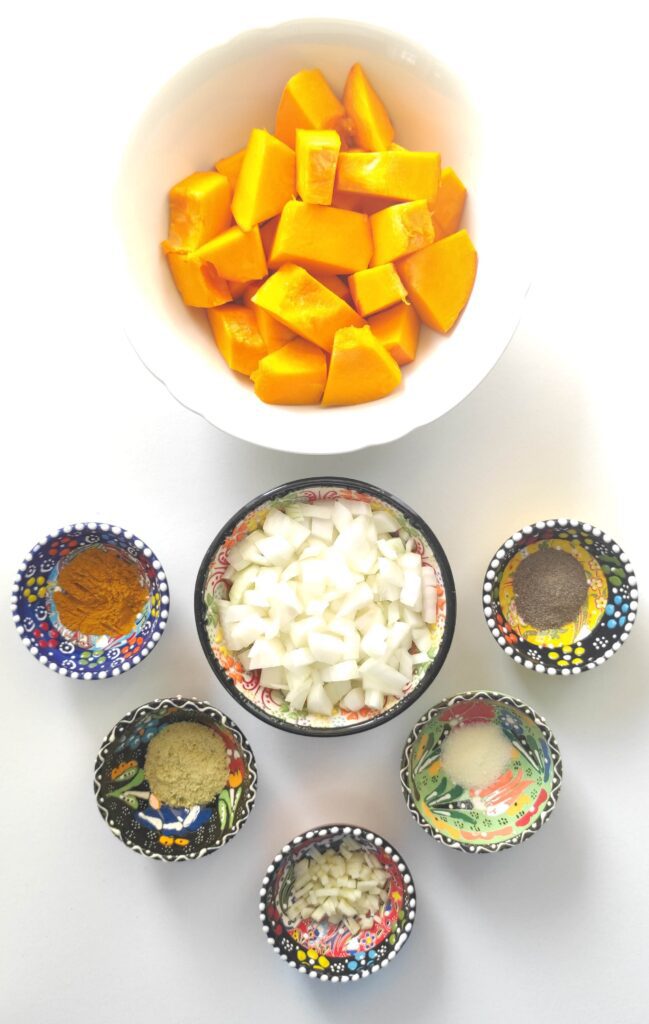 5. Vegan Diet Cabbage Soup | Recipes for Weight Loss
Here is the recipe.
Costs: $5 for 6 servings
Ingredients (4-5 servings)
1/2 head of cabbage chopped
750 ml water
1 medium onion, chopped
1 carrot, diced
400 gr organic canned tomatoes
a bunch of parsley
1 cup of celery, diced
1teaspoon salt
1/2 teaspoon black pepper
1 teaspoon hot chili flakes
2 garlic
5-6 tablespoons olive oil
6. Jalapeño Hummus Recipe
Here is the recipe
For this jalapeño hummus recipe, you need, besides the classic hummus ingredients, 1/2 cup of fresh parsley, and 1 fresh jalapeño, or 1 tablespoon (25 g) pickled jalapeños. I always use pickled jalapeños.
Costs: $4 for 4 servings
7. Homemade Vegetable Soup Recipe
I love this soup recipe in particular because it's light and fresh. It is incredibly healthy and a really nice feel-good dish, especially on cold autumn and winter days. You don't need fancy ingredients and the ingredients are very cheap.
Costs: $5 for 4 servings
Here is the recipe.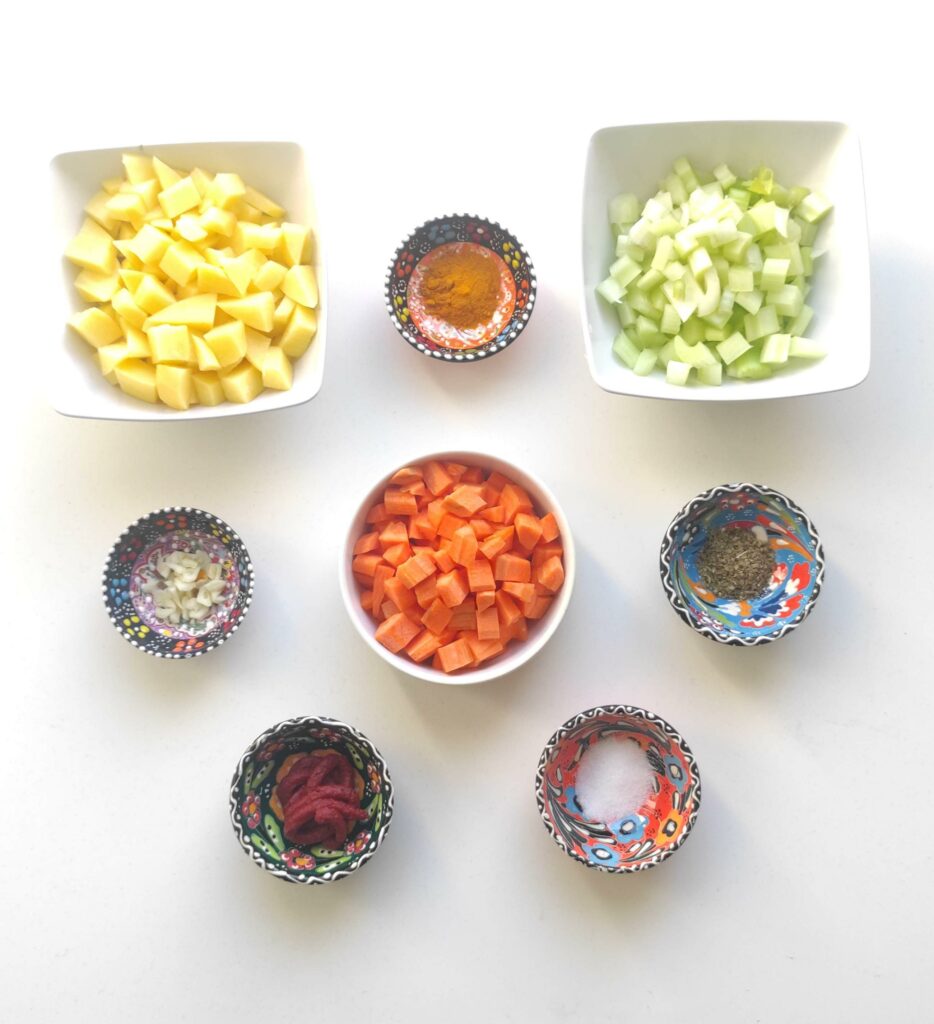 Vegetables: 2 medium carrots ( cut into small cubes), 2-3 sticks of celery (cut into small pieces),  2 medium potatoes (cut into small pieces), 2 medium tomatoes (peeled and chopped, or 200g canned tomatoes), 2 cloves of garlic

Herbs: 1/2 teaspoon of salt,1/2 teaspoon of dried oregano, 1 teaspoon of turmeric

Extras: 1tablespoon of tomato paste, 1-liter vegetable stock, 4 tablespoons of olive oil
8. White Bean Stew Recipe
Here is the recipe.
Costs: $6 for 4 servings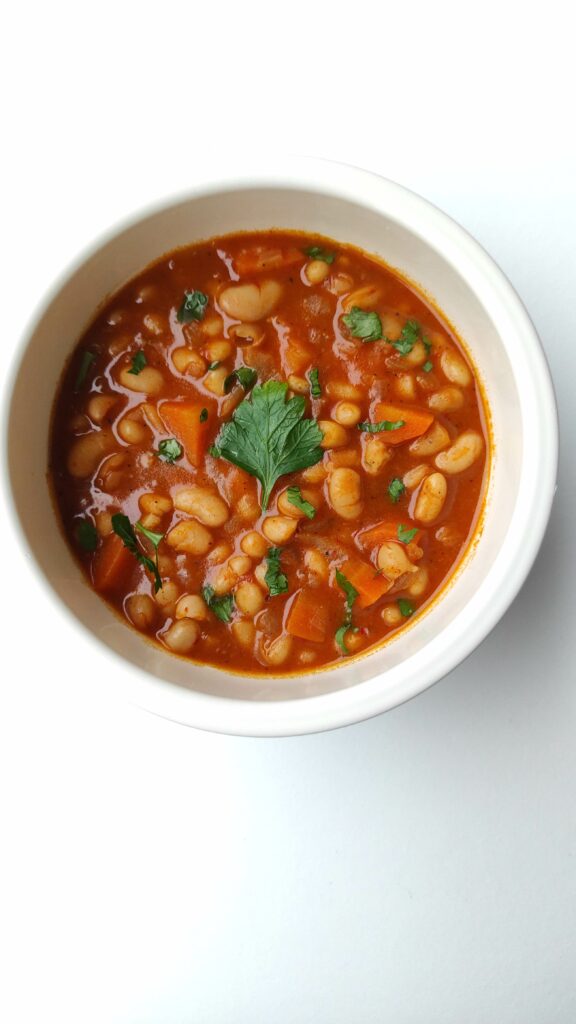 Ingredients for White Bean Stew (3-4 servings)
500 grams of white beans (cooked)
1 yellow onion (medium, finely chopped)
1 carrot (cut into small cubes)
1 potato (cut into small cubes)
1 tomato (peeled and finely chopped)
2 tablespoon tomato paste
1/2 liters water
1 teaspoon salt
1 bay leaf (optional)
1/2 teaspoon black pepper
1 teaspoon sugar
2 cloves garlic (chopped)
1/2 cup sunflower oil (or olive oil)
9. Mediterranean Chickpea Salad
This Mediterranean chickpea salad recipe is not only quick and easy to make, but it is also filling, and thanks to the Mediterranean flavors like parsley, red onion, lemon, and garlic, refreshing and delicious.
Here is the recipe.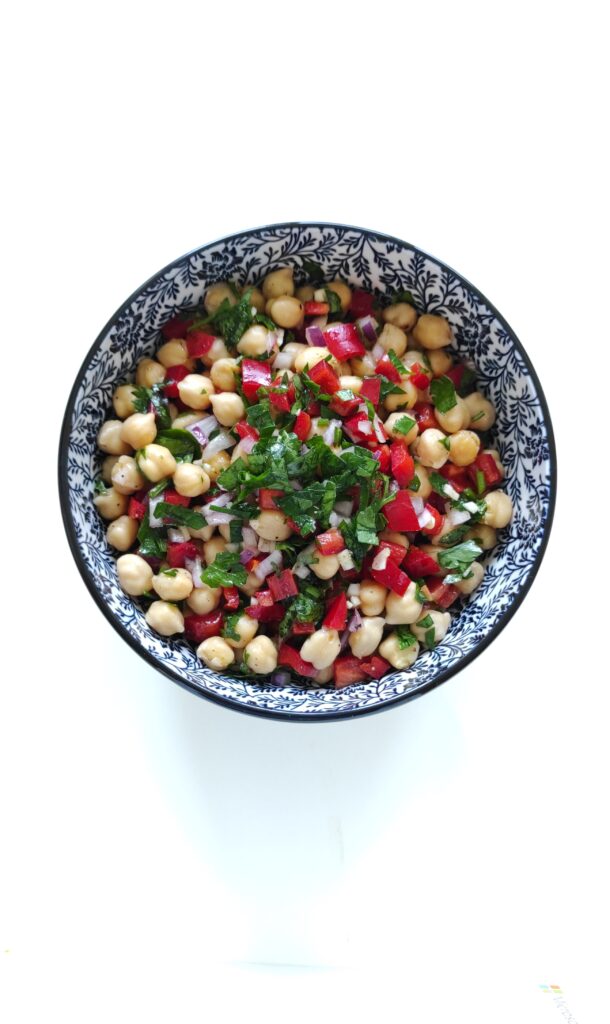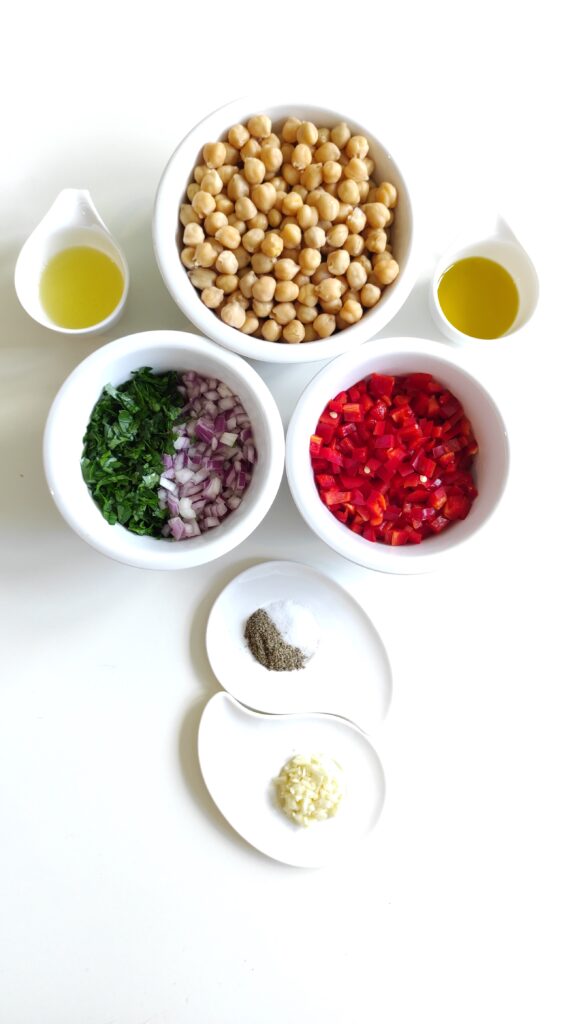 Main Ingredients
Chickpeas: Cook them yourself or use canned chickpeas
Bell Pepper: You can use red bell pepper or red pointed pepper
Red Onion: Please do not use yellow onion
Parsley: Do not use dried parsley
Lemon Juice: Only fresh lemon juice
Olive Oil: Extra virgin olive oil.
10. Easy Baklava Recipe
Here is the recipe.
Baklava is an important pastry dessert in Turkish, Middle Eastern, Balkan, and South Asian cuisines. Like other phyllo-based pastries, baklava is made by brushing the thin, papery sheets with butter and layering them with finely chopped walnuts, pistachios, almonds, or hazelnuts. In general, it is sweetened with sugar syrup or sweet honey-based syrup.
Costs: $8 for 7-8 servings
Ingredients
Phyllo (Filo) Dough: You can find Phyllo (Filo) Dough in supermarkets or on online stores like amazon.
Walnuts: You will use finely crushed walnuts
Water: Please do not use tap water
Lemon: You need 6-8 drops of lemon juice
Butter: You need to melt the butter and set it aside. It has to be cold.
In this post, we answered the question "How to eat vegetarian on a budget?".
When we think about diet, we should not only think about the money we spend but also about eating foods that are good for our health. For the sake of our health, we should prepare our meals at home as much as possible. Unfortunately, the food that enters our bodies these days is losing quality. If we are in a good economic situation, we should be careful to consume organic products.
Check out our other articles about veganism and the vegetarian lifestyle.
Check out my vegan and vegetarian recipes: