Borek Recipe | Easy Turkish Borek (Burek) Recipe
Borek Recipe
Sunday is a baking day for me and as I have been craving Turkish börek (burek) for 2-3 weeks, we will prepare some with you today. Do not worry! I do not want you to prepare the phyllo dough at home:). As we will not make phyllo sheets from scratch, it will be very easy for us to prepare this easy borek recipe. You can find phyllo (filo) dough in supermarkets or online. Besides borek, you can prepare with phyllo (filo) dough different easy and delicious Turkish recipes like Baklava.
What is borek?
Borek, also known as burek, is a type of filled pastry made of thin flaky dough, such as filo, and filled with a variety of fillings such as meat, cheese, spinach, or potatoes. Boreks are primarily associated with the former Ottoman Empire's Balkans and the Caucasus, the Middle East, Eastern European and Central European countries, Northern Africa, and Central Asia. Borek can be made in a large pan and then cut into portions after baking, or it can be made as individual pastries. They are typically baked, but some varieties can also be fried. Borek can be served hot or cold and is sometimes sprinkled with sesame or nigella seeds.
Ingredients for borek recipe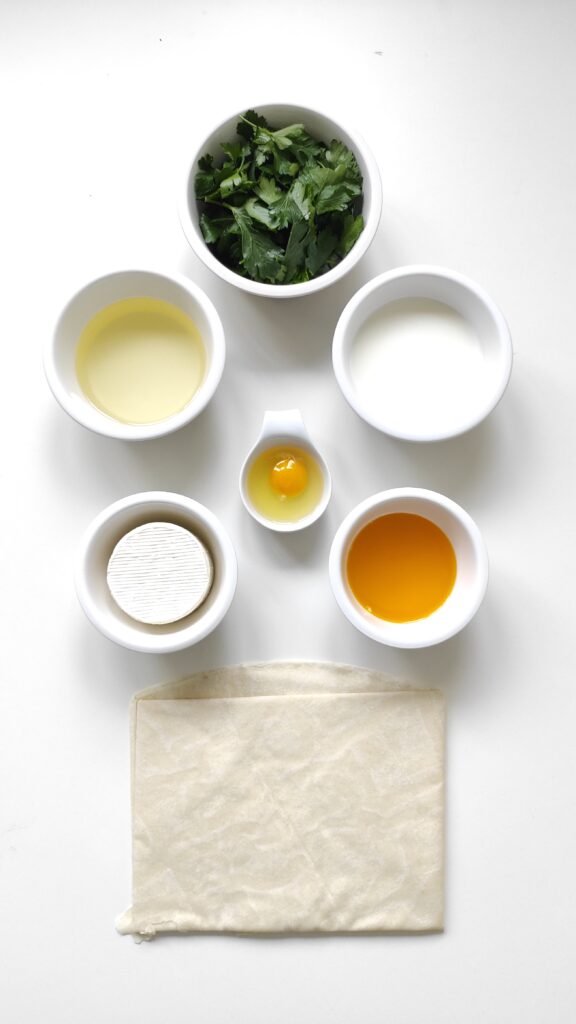 Phyllo dough: You need 500 g phyllo dough. You can find phyllo sheets in almost every supermarket.
Sheep's Milk Cheese: For this easy borek recipe I will use sheep's milk cheese. 200 g.
Parsley: You need 1 cup, chopped fresh parsley. If you do not have fresh parsley, DO NOT use dried parsley.
Egg: You need 1 organic egg for the sauce.
Butter: 150 g melted organic butter.
Milk: 100 ml organic milk
Sunflower oil: 100 ml sunflower oil for the sauce. You can use rapeseed oil, too.
That's it, this is all you need for an easy, delicious borek recipe.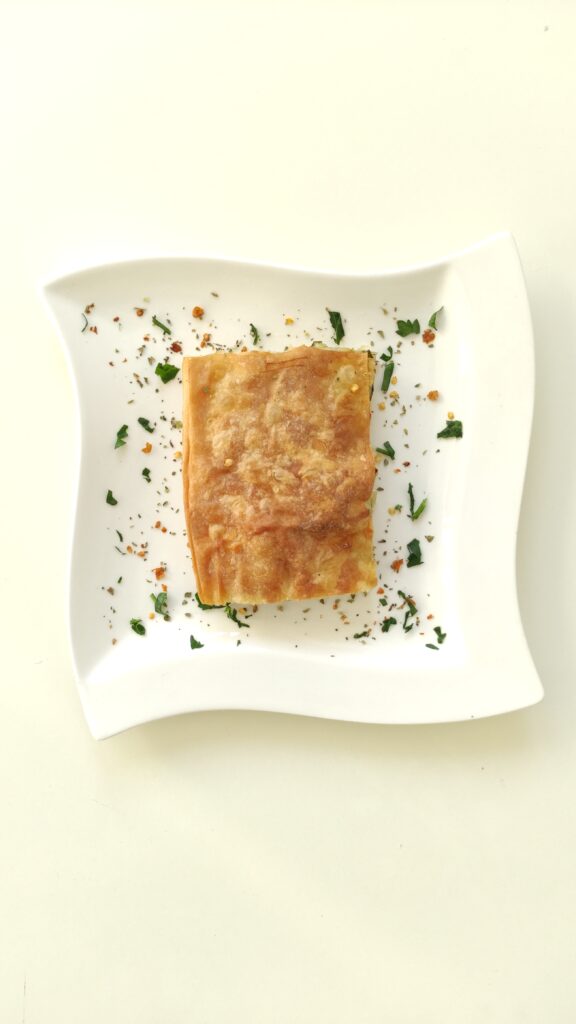 Borek Recipe | Easy Turkish Borek (Burek) Recipe
Borek whit cheese filling.
Instructions
Prepare the filling for your borek.

Combine the chopped parsley with cheese in a large bowl. Use your hands. Mix well.

Prepare the sauce.

Mix milk, egg, and oil together and mix well.

Now you can start to build your borek. First layer:

With a brush, coat the bottom of the baking pan with melted butter and place 2 phyllo sheets in it.

Using a brush, spread the sauce on the first layer

Place the third phyllo sheet and sprinkle about 1/3 of the cheese mixture evenly over it.

Place the fourth phyllo sheet and add sauce. Spread the sauce using a brush.

Place the fifth phyllo sheet and sprinkle half of the cheese mixture evenly over it.

Place the sixth phyllo sheet and add sauce again.

Place the rest of the phyllo sheets and add the rest of te sauce. Spread the sauce using a brush.

Before you place your borek in the oven, slice it into squares and let it rest for about 60 minutes.

Preheat oven to 170 degrees (340 Fahrenheit) and bake for 45 minutes or until golden brown.

Your borek is ready to enjoy. You can be proud of yourself.
borek recipe, burek. burek recipe, pastry, burek with cheese, borek with cheese, börek recipe, börek with cheese
Recipe Card powered by