Easy Baklava Recipe | Turkish Desserts
Easy Baklava Recipe
This easy baklava recipe will blow your mind. You will be amazed when you see how easy it is.
What Is In Baklava Filling
Baklava is an important pastry dessert in Turkish, Middle Eastern, Balkan, and South Asian cuisines. Like other phyllo-based pastries, baklava is made by brushing the thin, papery sheets with butter and layering them with finely chopped walnuts, pistachios, almonds, or hazelnuts. In general, it is sweetened with sugar syrup or sweet honey-based syrup.
There's no school to become an expert in baklava. You learn this work from your master and improve yourself over time. However, as we will not make phyllo sheets from scratch, it will be very easy for us to prepare our baklava.
The layering and buttering of the phyllo sheets will take some time so remember to be patient, the final product is well worth it.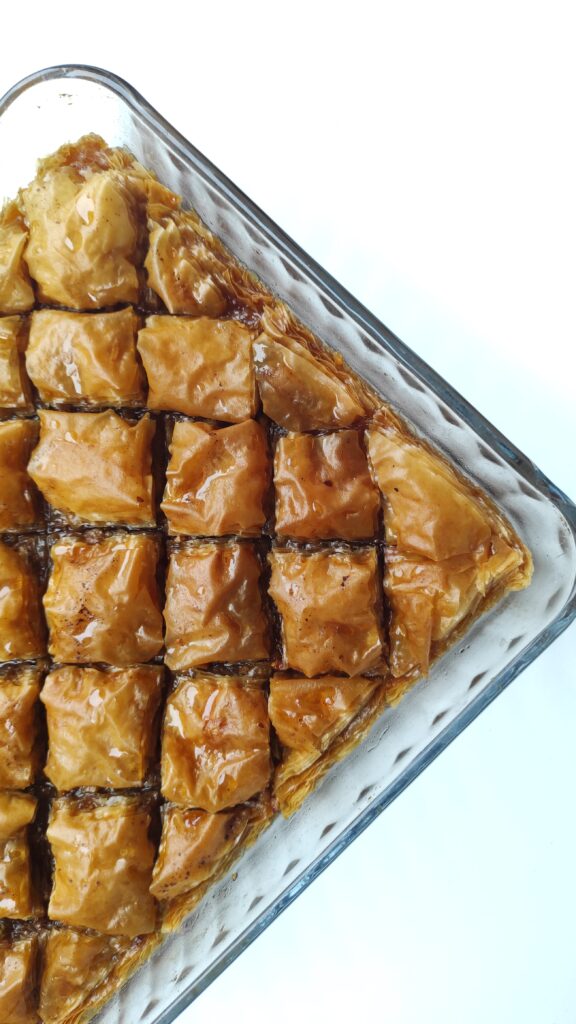 Where Is Baklava From
"Although the history of baklava is not well documented. Its current form was probably developed in the imperial kitchens of the Topkapı Palace in Istanbul (now known in English as Istanbul). The Sultan presented trays of baklava to the Janissaries every 15th of the month of Ramadan in a ceremonial procession called the Baklava Alayı.
The three main proposals for the pre-Ottoman roots of baklava are the Ancient Roman placenta cake, the Central Asian Turkic tradition of layered desserts, and the Persian Lauzinaj. There are also claims attributing baklava to the Assyrians, according to which baklava was already prepared by them in the 8th century BC." Source.
Let's take a closer look at what you'll need to make this easy baklava recipe.
Ingredients
Phyllo (Filo) Dough: You can find Phyllo (Filo) Dough in the supermarkets or on online stores like amazon.
Walnuts: You will use finely crushed walnuts
Water: Please do not use tap water
Lemon: You need 6-8 drops of lemon juice
Butter: You need to melt the butter and set it aside. It has to be cold.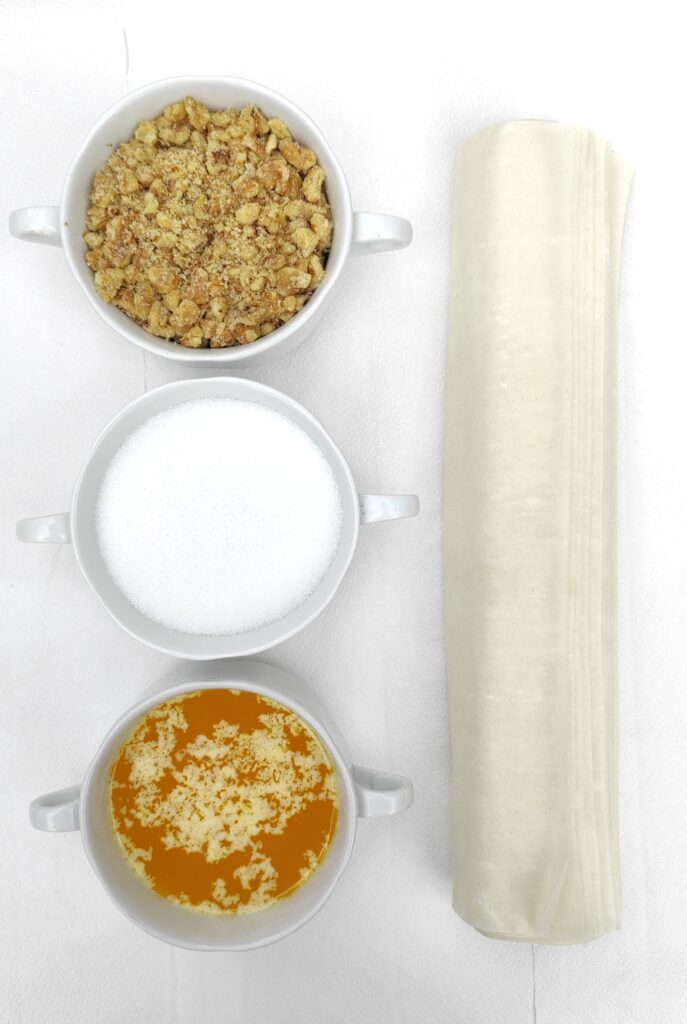 For another dessert recipe, click here!
How to Store Baklava ?
You can keep baklava in an airtight container in the refrigerator for up to 1 week.
Let`s make baklava!
Easy Baklava Recipe | Turkish Desserts
Instructions
Prepare the syrup

Preheat oven to 170 degrees (340 Fahrenheit). Bring the water to a boil, add sugar, and let it simmer for 15 minutes. Add lemon juice and turn the heat off. Let it cool until you prepare and bake your baklava.

You need a baking pan

With a brush, coat the bottom of the baking pan with melted butter.

First layer

Place 6 phyllo sheets.

Second layer: Walnuts

Sprinkle about 1/3 of the walnuts evenly over the top layer

Third layer: 4 phyllo sheets

Place 4 phyllo sheets.

Fourth layer: Melted butter

Coat the top of the sheets with melted butter.

Fifth layer: 4 phyllo sheets

Place 4 phyllo sheets.

Sixth layer: Walnuts

Sprinkle 1/3 of the walnuts over the top layer of phyllo.

Seventh layer: 6 phyllo sheets

Place 6 phyllo sheets.

Eight layer: Walnuts

Sprinkle the rest of the walnuts over the top layer of phyllo.

Ninth layer: 8 phyllo sheets and butter

Pace 8 phyllo sheets and coat the top of the sheets with melted butter

Cut the baklava

For this step, you need a very sharp knife. Cut the pastry into diamond shape pieces and bake for 35-45 minutes or until the top of the baklava turns golden.

Last step

As soon as you remove the baklava from the oven, pour the cooled syrup all over the hot baklava. Let the baklava cool completely. 3-4 hours.

Garnish and enjoy with your loved ones:)

You can garnish your baklava with finely crushed pistachios and enjoy it with your favorite black tee.
Note
Please note: ovens vary, be sure to check your baklava halfway through baking.
Your knife must be very sharp.
Easy baklava recipe, Baklava Recipe, Baklava, Turkish desserts
Recipe Card powered by