Stuffed Eggplant Recipe | Vegan Stuffed Eggplant (Imam Bayildi) Recipe
Stuffed Eggplant (Imam Bayildi) Recipe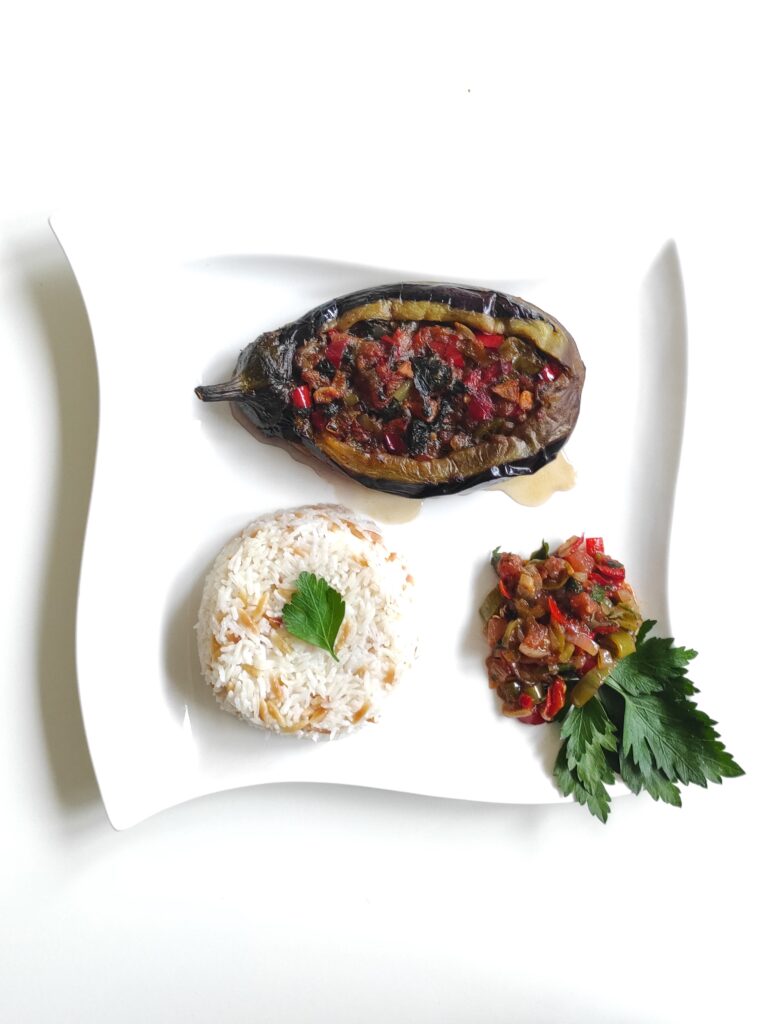 Interested in vegan or vegetarian Turkish food? Would you like to learn how to prepare Turkish dishes? Ok! Stuffed Eggplant Recipe MUST be on your list.
Stuffed Eggplant Recipe (Imam Bayildi) is a very famous Turkish recipe. "Imam Bayildi" means "the Imam fainted".
It is a dish in Ottoman cuisine consisting of the whole eggplant stuffed with onion, garlic, and tomatoes, and simmered in olive oil. It is an olive oil-based dish and is found in most of the former Ottoman regions.
Origin of the name
The name supposedly derives from a tale of a Turkish imam who swooned with pleasure at the flavor when presented with this dish by his wife, although other more humorous accounts suggest that he fainted upon hearing the cost of the ingredients or the amount of oil used to cook the dish.
Another folk-tale relates that an imam married the daughter of an olive oil merchant. Her dowry consisted of twelve jars of the finest olive oil, with which she prepared each evening an eggplant dish with tomatoes and onions. On the thirteenth day, there was no eggplant dish at the table. When informed that there was no more olive oil, the imam fainted."
Serving suggestions:
You can enjoy this delicious vegan stuffed eggplant recipe as a healthy, plant-powered dinner with rice or your favorite salad.
You can also serve this dish as part of a mezze platter.
How to store the stuffed eggplants?
This dish will keep for up to 3 days in an airtight container in the refrigerator.
Other eggplant recipes you might also like:
Did you make this recipe?
Please let me know how it turned out for you!
Leave a comment below and share a picture on Instagram with the hashtag #the_vegetarian_hannibal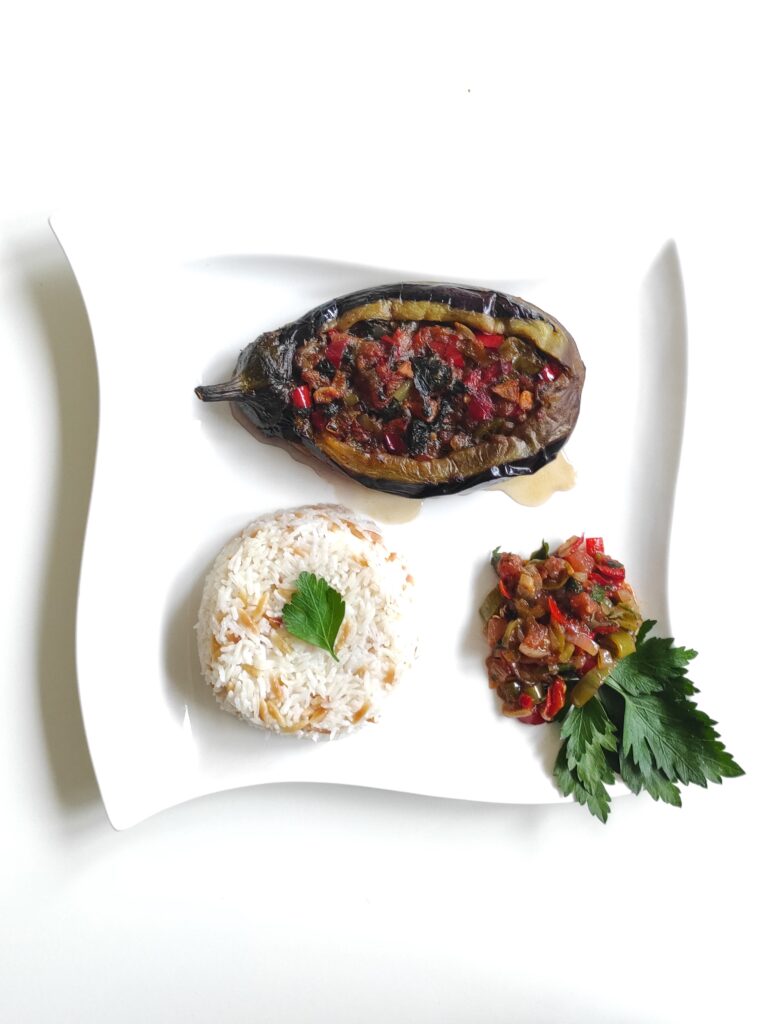 Stuffed Eggplant Recipe | Vegan Stuffed Eggplant (Imam Bayildi) Recipe
Eggplants

Preheat the oven to 180 °C = 356 °F and peel the eggplants from top to bottom in zebra stripes.

Bake the eggplants.

Place the eggplants in a pan or tray. With a brush, coat the eggplants with olive oil, add salt and bake for 20-25 minutes until they soften. The original recipe says you have to fry the eggplants. However, as always, I try to share with you healthier ways to prepare our recipes. 

Start to prepare the filling.

Cut the pointed peppers, onions, garlic cloves, and tomatoes into very small pieces.

Sauté the vegetables.

Heat olive oil in a pan over medium heat, place the vegetables, and sauté them with salt and pepper for 4-5 minutes.

Add the finely chopped tomatoes.

Add the tomatoes and sauté for another 3-4 minutes.

Fresh parsley.

Add fresh parsley, give it a good mix and turn the heat off.

Build your vegan stuffed eggplants.

Cut a slit on each eggplant without slicing all the way through. Use a spoon to make a boat shape for the filling to lay in, and place the filling in the eggplants.

This is the last step.

Place them in the oven again and continue baking them for 25 minutes. Your vegan stuffed eggplants are ready to enjoy. You can be proud of yourself.

Stuffed Eggplant Recipe is ready to enjoy.

The dish is served at room temperature or warm. I always serve it with rice. If you are a vegetarian, you can serve it with rice and some yogurt-garlic sauce.

Bon Appétit
Note
Before you use the eggplants, you should soak the eggplants in salted water. It helps to remove the bitterness that eggplants have.
If there are any leftovers from the filling, you can enjoy them with a piece of bread as finger food.
Stuffed Eggplant Recipe
Recipe Card powered by