Vegan Fried Noodles | Vegetable Chow Mein
Vegan Fried Noodles | Vegetable Chow Mein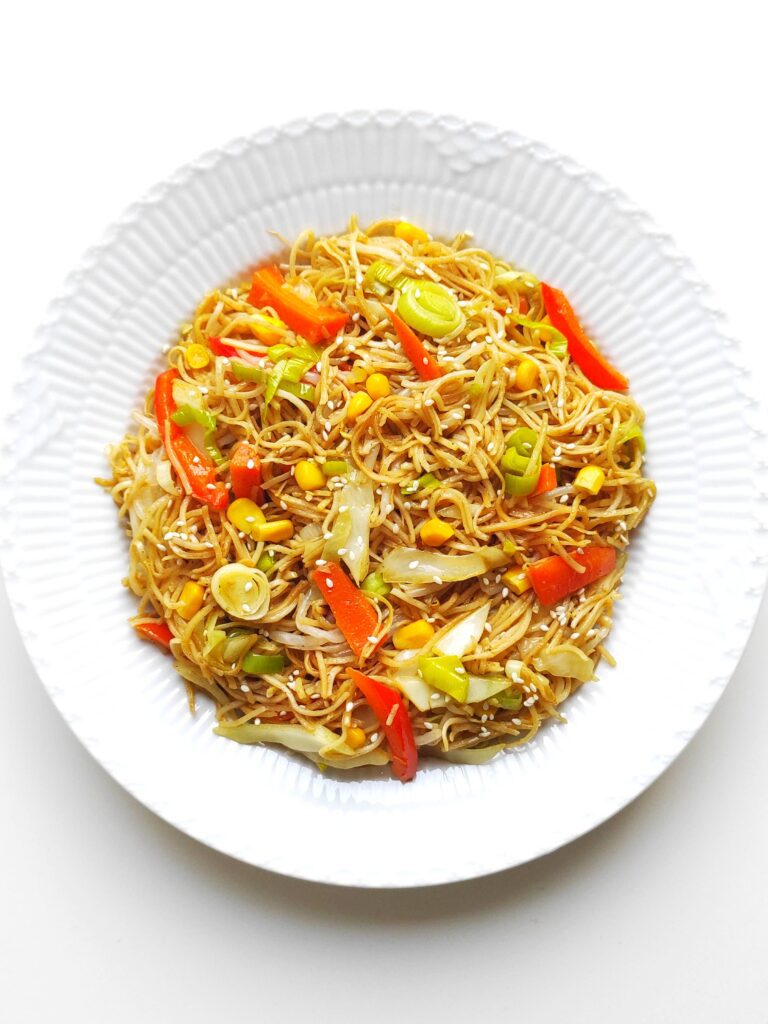 For 2 weeks I have been craving these vegan fried noodles. It was my takeaway food when I was a student. It was cheap, fast, "healthier" than other fast-food meals and it was delicious. Besides that, I liked the way how chefs prepared it. How they worked with their woks was interesting to watch.
Fried noodles are common throughout East Asia, Southeast Asia, and South Asia. Many varieties, cooking styles, and ingredients exist. Last year I created my own vegan fried noodles recipe and I think it turned out perfectly. Don`t worry. We will not use unhealthy flavor enhancers like glutamate as most Asian restaurants do. Have you ever watched Asian chefs cooking and noticed that they add a "white powder" to the dish? This is glutamate and it is a flavor enhancer. It is unhealthy and you should not consume it.

What is Monosodium glutamate (MSG)?
MSG is a flavor enhancer that is often used in Chinese cuisine, canned veggies, soups, and processed meats.
MSG is designated as a "generally recognized as safe" food additive by the Food and Drug Administration (FDA), although its use is still debatable. As a result, the FDA requires that MSG be stated on the label when it is added to food.
For decades, MSG has been utilized as a food ingredient. The FDA has received several anecdotal reports of harmful responses to MSG-containing foods throughout the years. The symptoms are usually minor and do not necessitate medical attention.
Avoiding MSG-containing meals is the only method to avoid a response.
Let us start to prepare our vegan fried noodles.
Ingredients for vegan fried noodles
Vegetables: 1 red bell pepper( cut into strips),1 big carrot (cut into strips),  1 medium leek (cut into rings), 200 g white cabbage (cut into stripes), 100 g bean sprouts. Corn is optional.

Herbs: 1 teaspoon of salt,1 teaspoon of black pepper, 1 teaspoon of paprika powder
250 g Chow Mein Noodles, 3 tablespoons of soy sauce, 1 stock cube (dissolved in 50 ml hot water)

INSTRUCTIONS
Cook the noodles according to the packet instructions, drain them and set them aside.
Heat vegetable oil in a large pan, add carrot, white cabbage, red bell pepper, and sauté for 10 minutes over medium-high heat.
Add leek and sauté for 2 minutes.
Place the vegetables onto a plate.
Transfer the noodles into the same pan you cooked the vegetables in, add salt, herbs, dissolved vegetable stock, and soy sauce.     Mix well and cook them for 5 minutes.
Combine the vegetables with the noodles. Mix well. Your vegan fried noodles are ready to enjoy.
Check out my other vegan and vegetarian recipes! If you are looking for information about veganism, visit my blog.
Did you make this recipe?
Please let me know how it turned out for you! Leave a comment below and share a picture on Instagram with the hashtag #the_vegetarian_hannibal
References: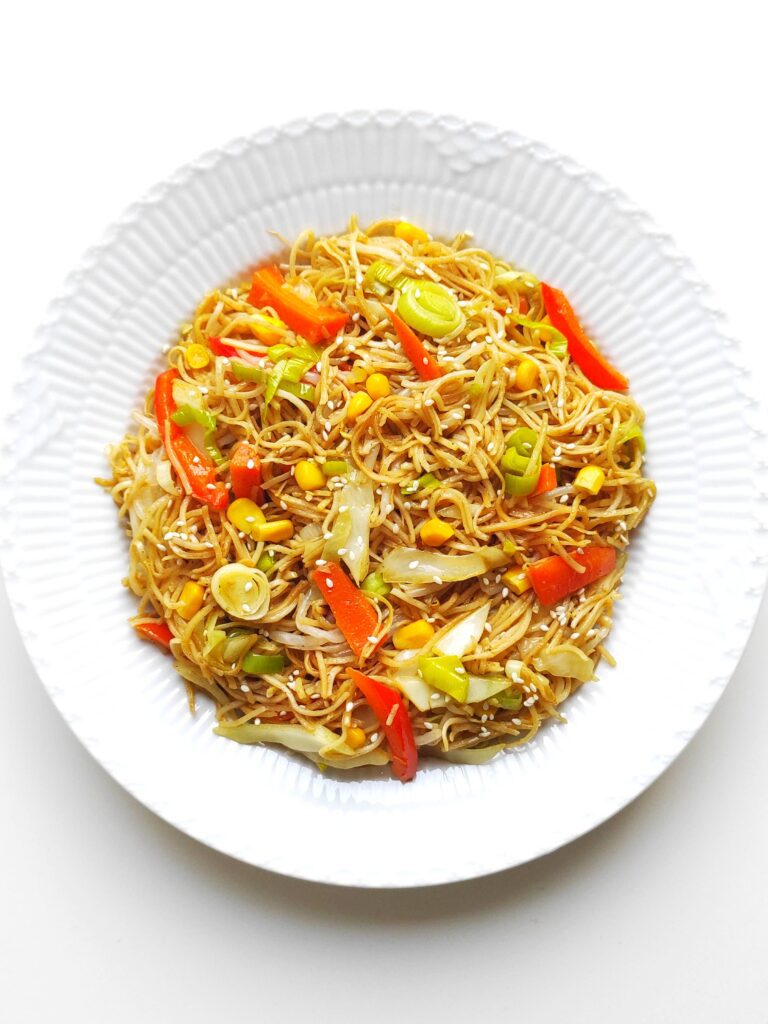 Vegan Fried Noodles | Vegetable Chow Mein
Description
Easy and delicious vegan fried noodles.
Ingredients for Vegan fried Noodles
Instructions (Vegan Fried Noodles)
Cook the Noodles

Cook the noodles according to the packet instructions, drain them and set them aside.

Sauté the vegetables

Heat vegetable oil in a large pan, add carrot, white cabbage, red bell pepper, and sauté for 10 minutes over medium-high heat.

Add leek and sauté for 2 minutes.

Place the vegetables onto a plate.

Transfer the noodles into the same pan you cooked the vegetables in, add salt, herbs, dissolved vegetable stock, and soy sauce.     Mix well and cook them for 5 minutes.

Combine the vegetables with the noodles. Mix well. Your vegan fried noodles are ready to enjoy.

If you like spicy food you can serve it with hot chili sauce
chow mein noodles, vegan freid noodles, vegetable chow mein, chinese fried noodles
Recipe Card powered by