White Bean Stew Recipe |Vegan Stew Recipes
White Bean Stew Recipe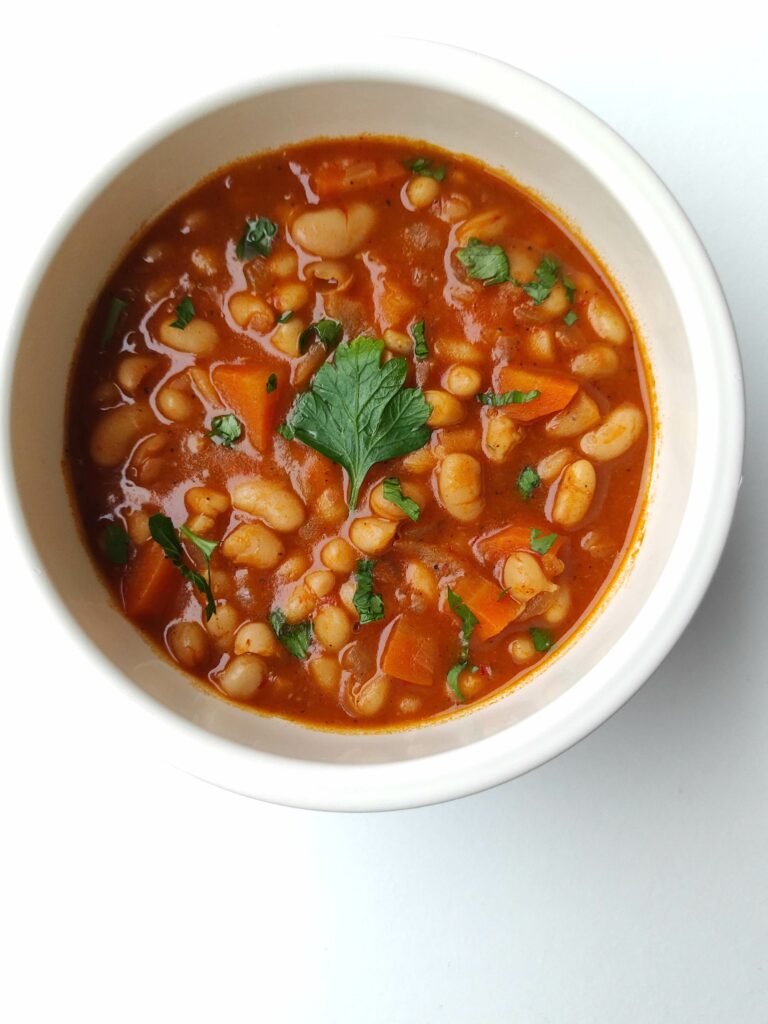 Today, I would like to share with you one more stew recipe. White Bean Stew. For this recipe, we can use frozen (fresh), dried, or canned white beans. Today, I will use canned beans. If you want to use dried beans, you have to place the beans in water and wait 24 hours, until they are soft, before you use them.
Ingredients for White Bean Stew (3-4 servings)
500 grams white beans (cooked)
1 yellow onion (medium, finely chopped)
1 carrot (cut into small cubes)
1 potato (cut into small cubes)
1 tomato (peeled and finely chopped)
2 tablespoon tomato paste
1/2 liters water
1 teaspoon salt
1 bay leaf (optional)
1/2 teaspoon black pepper
1 teaspoon sugar
2 cloves garlic (chopped)
1/2 cup sunflower oil (or olive oil)
For a better result, I suggest you use a hand blender to chop the onion. The smaller the onions, the better the taste. Simply peel the skin off your onion and quickly cut it into quarters. Put these quarters in your blender, and pulse the onion until you're satisfied with the texture.
White beans health benefits:
Nutrition Facts
For a Serving Size of 1 cup (202g)
Nutrition Facts
For a Serving Size of 1 cup (202g)
Calories 672.7
Calories from Fat 15.5 (2.3%)
% Daily Value *
Total Fat 1.7g
–
Saturated fat 0.4g
–
Monounsaturated fat 0.1g
–
Polyunsaturated fat 0.7g
–
Sodium 32.3mg
2%
Potassium 3625.9mg
78%
Carbohydrates 121.7g
–
Net carbs 91g
–
Sugar 4.3g
–
Fiber 30.7g
123%
Protein 47.2g
Vitamins and minerals
Vitamin A 0μg
0%
Vitamin A IU 0IU
–
Vitamin B6 0.6mg
50%
Vitamin B12 0μg
0%
Vitamin C 0mg
0%
Vitamin D 0μg
0%
Vitamin D IU 0IU
–
Vitamin E 0.4mg
3%
Vitamin K 11.3μg
10%
Caffeine 0mg
–
Calcium 484.8mg
49%
Iron 21.1mg
264%
Magnesium 383.8mg
110%
Phosphorus 608mg
61%
Zinc 7.4mg
50%
Copper 2mg
100%
Manganese 3.6mg
182%
Selenium 25.9μg
37%
Retinol 0μg
–
Lycopene 0μg
–
Thiamine 0.9mg
59%
Riboflavin 0.3mg
18%
Niacin 1mg
5%
Folate 783.8μg
196%
Choline 133.7mg
25%
Water 22.9g
Fatty acids
Amino acids
Tryptophan 0.6g
–
Threonine 2g
–
Isoleucine 2.1g
–
Leucine 3.8g
–
Lysine 3.2g
–
Methionine 0.7g
–
Cystine 0.5g
–
Phenylalanine 2.6g
–
Tyrosine 1.3g
–
Valine 2.5g
–
Arginine 2.9g
–
Histidine 1.3g
–
Alanine 2g
–
Aspartic acid 5.7g
–
Glutamic acid 7.2g
–
Glycine 1.8g
–
Proline 2g
–
Serine 2.6g
–
* The Percent Daily Values are based on a 2,000 calorie diet, so your values may change depending on your calorie needs
Do not forget to check out my other stew recipes: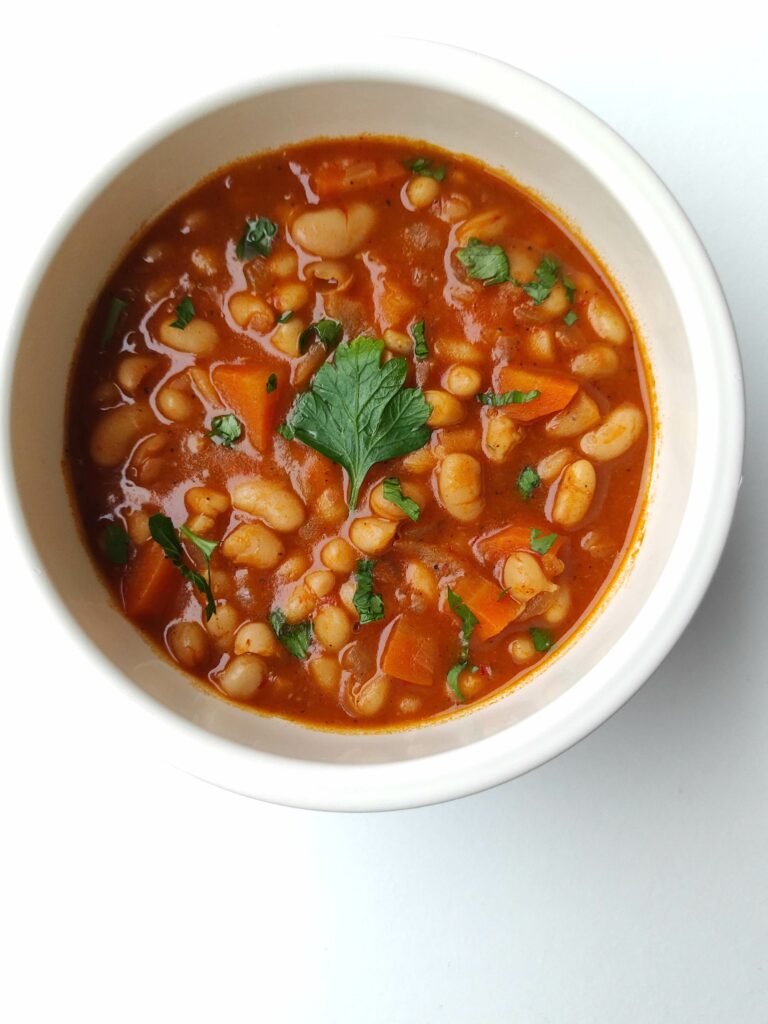 White Bean Stew Recipe |Vegan Stew Recipes
Instructions (White Bean Stew)
Sauté the onions.

Heat olive oil over medium-high heat and sauté the onions for 2-3 minutes.

Add the tomato paste, salt, black pepper and cook for 2-3 minutes.

Add carrot, potato, mix well and cook for another 2-3 minutes. Stirring occasionally.

Add the tomato and mix well.

Add the beans, 500 ml water, bay leaf (optional) mix well, and cook for 30-40 minutes over low heat.
Recipe Card powered by