Lentil Stew Recipe | Vegan Lentil Stew
Lentil Stew Recipe
Lentil Stew Recipe. When I was a kid, this dish was on the table at least once a week. Especially in the winter months, my mother prepared this recipe. This is one of the dishes that prove that you can prepare delicious dishes with a few simple ingredients. It is not only simple and tasty but also very nutritious. I would like to share with you this recipe.
Health Benefits of Lentils
Besides chickpeas, also green lentils are a very good protein source for vegans and vegetarians. Did you know that lentils provide the same quality protein as meat when combined with whole grains? A ½ cup serving of cooked lentils provides about 12 grams of protein. They contain Protein, Fibre, Potassium, Folate, Iron, Manganese, and more…
Nutritional Information
Source: https://www.lentils.org
Let's take a closer look at what you'll need to make this easy lentil stew recipe.
Ingredients for the Lentil Stew Recipe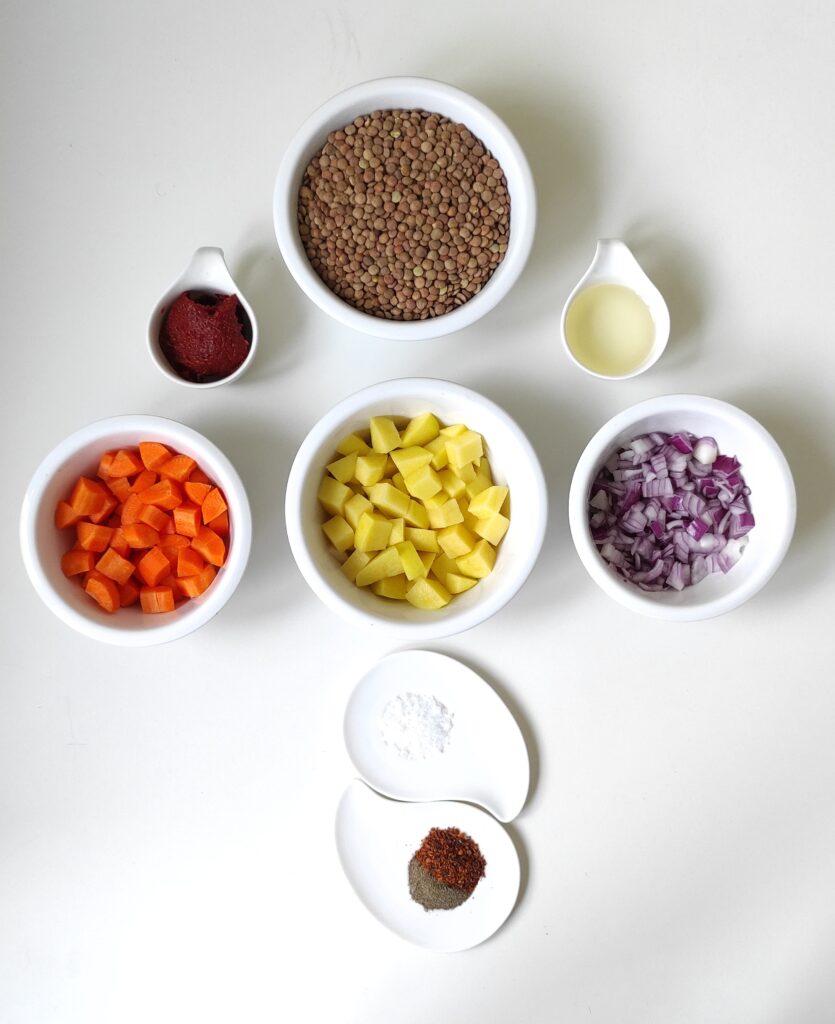 Green lentils: Green lentils, also known as French lentils, have a nuttier flavor and stay firm when cooked. For salads, green lentils are the best option. Beluga lentils, which have a similar texture to French lentils but are black in color, are new to the market. If you like red lentils, you can try my "Lentil Meatballs Recipe".
Carrots, potatoes, and onions: When it comes to carrots, potatoes, and onions, I always use organic products. According to a study on organic food, lettuce, tomatoes, potatoes, or carrots from organic farming are healthier than conventional foods. They contain more vitamins, bioactive substances, and so-called antioxidants. By the way, responsible use of agrochemicals protects nature and the environment and, above all, groundwater. And where pesticides are not used, residues cannot accumulate in fruit and vegetables.
Oil: You can use sunflower oil or rapeseed oil.
Tomato paste: This is one of the ingredients that I always have in my refrigerator.
That`s it! Let's start to prepare our delicious lentil stew recipe.
Lentil Stew Recipe | Vegan Lentil Stew
Instructions
Cook the lentils.

Cook the lentils over medium-high heat for 15 minutes, drain and set aside.

Heat the oil over medium heat and sauté the onion for 4-5 minutes or until it softened.

Add the carrot and cook for 2-3 minutes.

Add the potatoes and sauté for another 4-5 minutes

Add the lentils, tomato paste, salt, black pepper, chili flakes and cook for another 4-5 minutes, stirring occasionally.

Add 1-litre water and cook over low heat for 25-30 minutes or until lentils are soft and tender.

Congratulations:)! Your lentil stew is ready to enjoy.
Lentil Stew, Lentil Stes Recipe, Stew, green lentils
Recipe Card powered by