Easy Banana Bread Recipe | Moist, Easy and Delicious
Healthy Banana Bread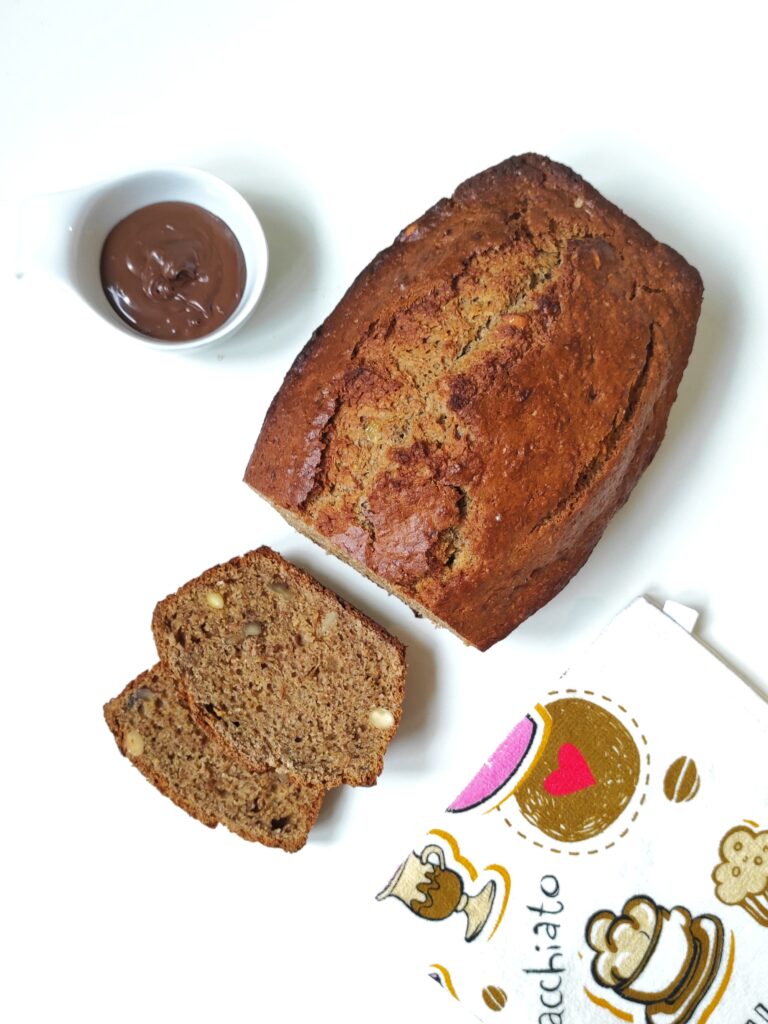 Google revealed the most searched recipes in 2020. Did you know that "Healthy Banana Bread" was one of the most searched recipes on Google in 2020? Today, I would like to introduce an easy Banana Bread Recipe.
The year 2020 will be remembered as the year of viral recipes. Due to the COVID-19 pandemic, cooking has become a popular hobby. People all over the world have turned to the kitchen to pass the time as they heed "stay at home" directives.
Here are the top 10 most searched recipes globally since March 1, according to Google Trends:
Banana bread recipe
Pancake recipe
Chicken recipes
Pizza dough recipe
Brownie recipe
Recette crepe
Meatloaf recipe
French toast recipe
To be honest with you, I am not a big fan of the "Classic Banana Bread" recipe. Yey, it is delicious, however, I prefer "Starbucks carrot cake". When I first prepared the "Healthy Banana Bread", I had the feeling that I had to add something. Something was missing for me. I found what I looked for and this was hazelnut cocoa spread.
Today I would like to share with you my easy banana bread recipe with hazelnut cocoa spread. You will love it!
What do you need for the easy banana bread recipe?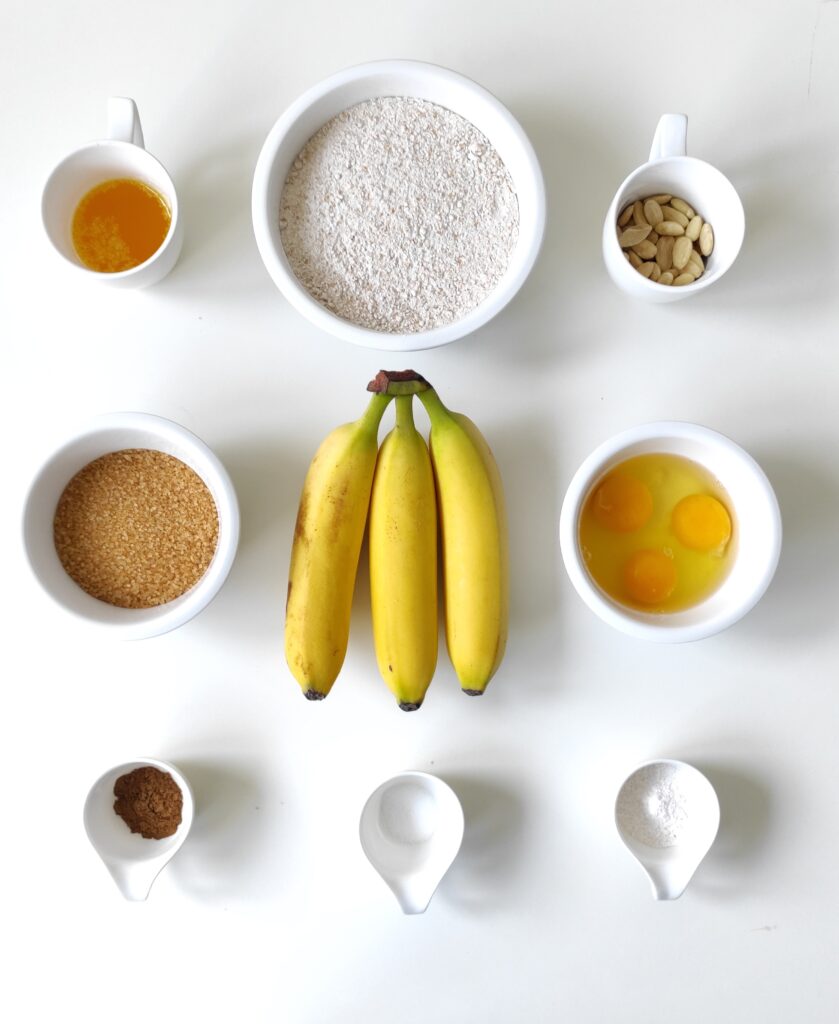 Bananas: You need three bananas. The bananas MUST be ripe and sweet.
Brown sugar: For this recipe you have should use brown sugar for a better taste. This is not an indispensable part of the recipe. If you do not have brown sugar, you can use white sugar.
Butter: If it comes to dairy products I always use organic products. Melt the butter.
Eggs: 3 organic eggs.
Flour: If I bake, I always use organic whole wheat flour. Try it and you will see that it tastes better with organic products.
Walnuts or almonds: You can use crushed almonds or walnuts.
Hazelnut cocoa spread: this ingredient is optional. However, I recommend you use it as a topping. Especially, kids will love it.:)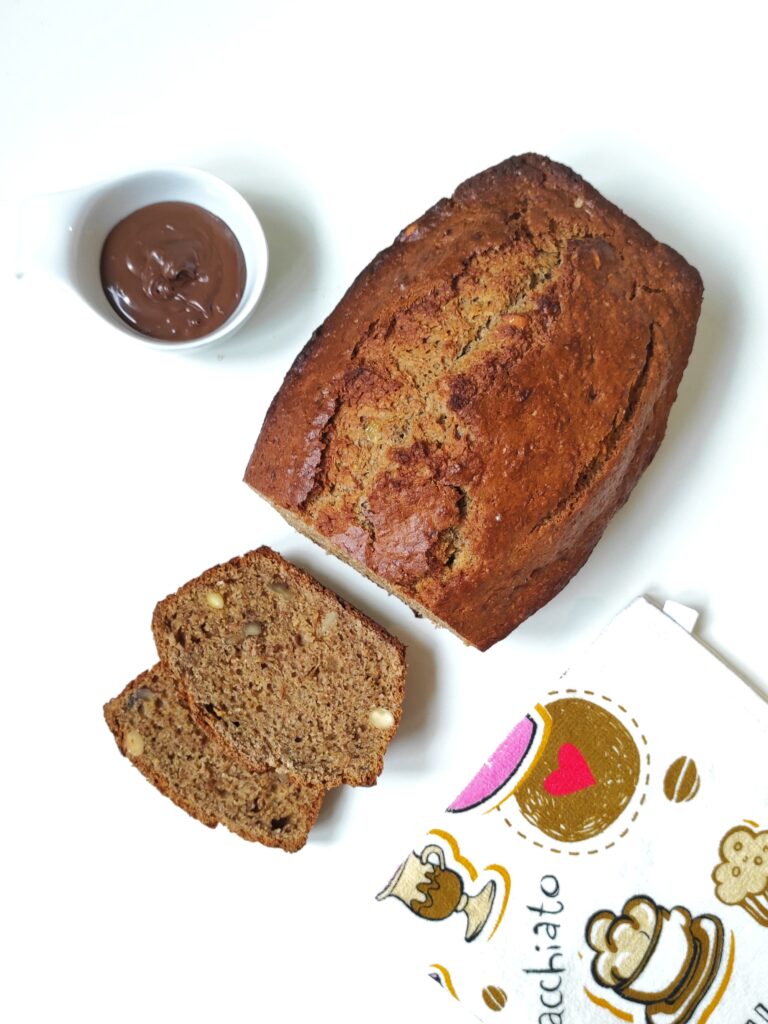 Easy Banana Bread Recipe | Moist, Easy and Delicious
Description
This is an easy banana bread recipe with hazelnut cocoa spread. You will love it!
Ingredients for the "Easy Banana Bread Recipe".
Mash the bananas.

Preheat the oven to 350°F (175°C). In a large bowl, mash the bananas. If you don't have a food processor, blender, or potato masher. You can simply use a fork.

Add eggs, brown sugar, melted butter, and mix well.

Add the whole wheat flour, cinnamon, salt, baking soda, and mix well again.

Place the dough in a greased bread pan (9×5-inch) and bake for 40 - 50 minutes.

Enjoy your banana bread with hazelnut cocoa spread.
banana bread, bread recipe,
Recipe Card powered by