Easy Roasted Potato Recipe|Perfect Roasted Potatoes
Easy roasted potato recipe
Potatoes are one of the most popular foods in the United States, and there are many different methods to prepare them. However, you might be wondering if they're safe to eat. Potatoes have a terrible reputation for being high in starch, but they're actually quite excellent for you.
Potatoes are quite adaptable. Serve them as the base for a baked frittata or as part of a veggie scramble with eggs or chickpeas for breakfast. Salads, side dishes, and pre-workout snacks can all benefit from cooked, chilled potatoes. Baked potatoes can be stuffed with oven-roasted or sautéed vegetables and lean protein for dinner, or they can be used in veggie chili, soup, or stew.
Today, I would like to share with you a delicious and easy roasted potato recipe. With this recipe, you will be able to make perfect roasted potatoes.
I love roasted potatoes. I prepare this recipe at least twice a month, on Sundays, and enjoy it with one of my favorite vegetarian burger recipes "Hot Skilacci". If you like garlic, the combination of both will blow your mind. Hot Skilacci, perfectly roasted potatoes, and your favorite refreshing drink. You should try this at home 🤤.
Which ingredients do you need for this easy roasted potato recipe?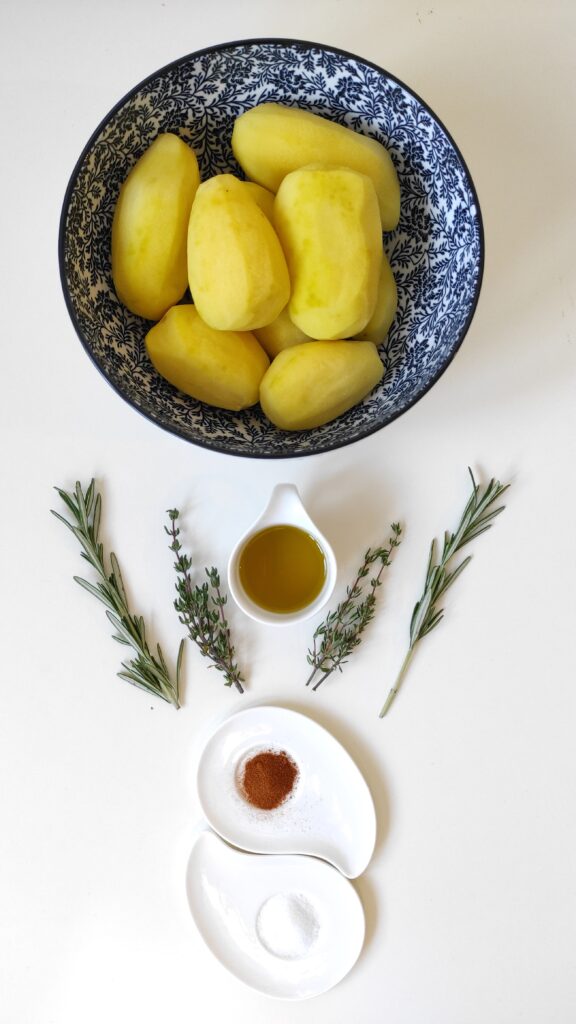 Potatoes: Use floury textured potatoes for baking, roasting, and making chips and wedges.
These potatoes have low water content and are high in starch. They have a delicate and dry feel. Red Jackets, Agria, and Fianna are the most common varieties available.
Thyme and rosemary: Use fresh herbs. Especially, using fresh rosemary is very important.
Garlic: Garlic is an indispensable part of this easy roasted potato recipe. Chop the garlic finely.
Another Potato Recipes:
Potato Cheese Balls | Easy Cheese Balls Recipe
Potato Salad with Lemon, Egg, and Fresh Herbs. Mama`s Recipe.
How to make chickpea curry with coconut milk and potato.
Easy Roasted Potato Recipe|Perfect Roasted Potatoes
Easy Roasted Potato Recipe
Instructions
Preheat the oven to 180 Celcius (360 Fahrenheit). Cut the potatoes into 6 or 8 pieces.

Add 2 tablespoons of oil, chili powder, salt, rosemary, and thyme. Mixx well.

Place the potatoes on a baking pan and roast for 30-40 minutes or until golden brown.

The potatoes should look like this.

Place the potatoes in a large bowl.

Heat the rest (3 tablespoons) of the oil in a small pan over medium heat. Add the finely chopped garlic, black pepper, and salt. Mix well and cook for 1 minute.  ONLY for 1 minute.

Add the mixture to the potatoes and give it a very good mix. Your perfectly roasted potatoes are ready to enjoy. Bon appétit.
Roasted potatoes, easy roasted potsto recipe, vegan poatato recipes
Recipe Card powered by